Having a stash of homemade dog treats on hand at all times is a great idea for Dog Owners. It can help with training. It can deepen the bond between you and your pooch. And, of course, it makes your dog just plain happy. May this chicken jerky recipe leave your dog happy and their Owner loved!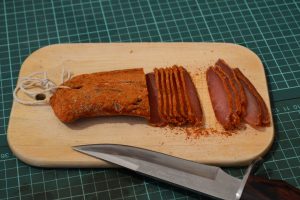 Chicken Jerky Ingredients 
Coconut oil to grease the wire rack
2 large boneless chicken breasts or 4 boneless chicken thighs 
Instructions 
Preheat the oven to the lowest setting.
Grease a wire rack with the coconut oil and place on top of a cookie sheet to catch the chicken drippings.
Slice the chicken into strips, lengthwise. You want them to be about 2/3rds of a centimetre.
Cook for about 2 and a half to 3 hours in total, flipping halfway through.
Allow the jerky to cool completely.
A few tips on making chicken jerky (and any doggy treats) even more delicious 
If you have picky pooch, here are some dog-friendly spices that can make these treats more appealing:
Dill
Coriander and parsley
Fennel
Ginger
Turmeric
Peppermint
These spices are all completely safe for your dog, and they have some great health benefits, as well. Similar to humans, ginger and turmeric are especially effective in lowering inflammation and promoting healthy digestion. Leafy ingredients like parsley and coriander add much-needed fibre to your dog's diet.
While the above list of ingredients are safe and tasty, there are a few others that you should never add to your dog's treats. These include: garlic, onion, onion powder, black pepper, and nutmeg. It's also important not to substitute peanut butter for other nut butters like almond butter. And, you probably already know not to add chocolate to any of your dog's treats. 
Would you like to give your pooch a day to match the tasty treat you just made them? Find them a local Doggy Daycare Pet Sitter for the next time you're at work! Whether you live on the Gold Coast, in Newcastle, around Perth, or anywhere in between, we have a Daycare option for your furry friend.  
Comments
comments