In this piece, expert Pet Sitter and writer Odette McCarthy details how you can care for multiple pets at once. If you need a Sydney-based Pet Sitter, take a look at Odette's profile! Live in Melbourne, Perth, Hobart, Darwin, Brisbane, Adelaide, or anywhere else in Australia? Mad Paws has you covered across the country!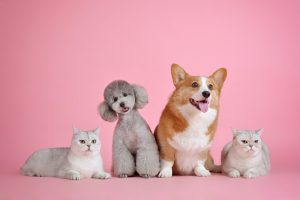 There may be times when you look after a number of pets during the one Sitting. That may mean pets from different Owners or multiple animals from the one Owner. Before attempting this, you need to make sure of a few things. The last thing you want or need is critter, creature, or carnivore chaos. If you stick to a few rules, you will be well on your way to animal amity.
When caring for multiple pets, don't bite off more than you can chew 
Every Pet Sitter will have different degrees of experience with animals. Draw on all your minding experiences to determine what animals you would be comfortable with and capable of Sitting together. During my childhood, I grew up with what I now see as a mini backyard animal sanctuary. We had chickens assisting with the backyard slug infestations; rabbits and guinea pigs roaming the garden; lovebirds chittering on the porch; frogs and turtles always attempting to escape their tanks; fish and axolotl adding to the household fengshui. These multiple animals were NOT all together at the one time… that would have meant me biting off WAY more than I could chew and ended in a feral fiasco!
Perceive particular pet personalities, peeves, and pleasures prior to the Pet Sit
Meeting and greeting each animal prior to your Pet Sit is crucial! Besides becoming acquainted with a new found furry friend, it is a chance for you to get to know each little personality and their likes and dislikes.
Fido his own furry little personality, different to that of Rover's. You need to see this early, as not every Fido and Rover will be compatible. Animals, like people, have their lovings and loathings in life. Some doggos love snuggling on the couch with their kitty kinfolk, while others see them as a walking ball.
Buy into bromidic beliefs of Predator vs Prey 
Consistent experience has taught me to Keep Caged Cagelings in Cages! It's common sense to cage your fowl when there are kitties on the prowl. Trust your primitive instincts when it comes to commonly known pet predators and prey. If you are Sitting a coop full of chickens alongside a cat or dog, keep them away from each other! These seemingly tame pet favourites can quickly become beasts of prey for such ill-fated victims.
I once looked after a big beautiful Dogue de Bordeaux who had lived alongside bantams and ducks for many years. Despite her docile nature, the beautiful beast still needed to live separately from the fowl. She got the front yard and the house, where she could look out into the backyard at the birds, whose stalking around almost appeared to be mocking her inability to reach beyond the glass. They were her feathered foe! As such, my advice would be to buy into your beliefs about all bestial beings. Innate primal instinct is often lurking – especially with multiple pets in one home.
Categorise and separate as suited
To make things simpler when handling multiple fur folk, place each into categories and split them into different days or separate rooms. Consider factors like:
Animal type or breed – keep predator away from prey, but also be weary of clashes – it's a dog eat dog world!
Special needs – some animals need extra attention or care
Sex – Don't make the mistake I made and put all the rabbits in one pen before knowing their sex. You may end up with 30 more than you wanted!
Age – People often hang out with others their age as they share similar interests, energy levels, and like. Animals can be the same! A boisterous pup could be too much for an ageing papa pooch. He's no spring chicken, after all!
Temperament – As with people, some animal temperaments just clash. Putting a shy person in a room full of loud, outgoing people could spark bullying and unnecessary anxiety. The aim is to make each pet feel at home when being looked after, not vulnerable and out of place.
Remember that your clients are both the animals and their Owners. With this in mind, you need to make sure the pet's parents are informed and all parties are comfortable with the Sitting arrangements. Be prepared and be careful when looking after multiple pets or you will be in for a catastrophe!
Comments
comments