The problem of pet smells and pet stains on carpet is a common one. It's something you'll come across at least once if you're an experienced Pet Sitter or Owner. No matter how obedient your pet, even the most well-trained dogs have accidents from time to time!
This is often the case when Owners go away and leave their pets behind. They can become anxious over the first few days and do things that are out of character. This includes peeing or pooping on the carpet or running through areas of the house that are usually out of bounds.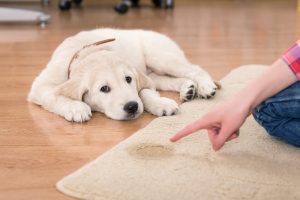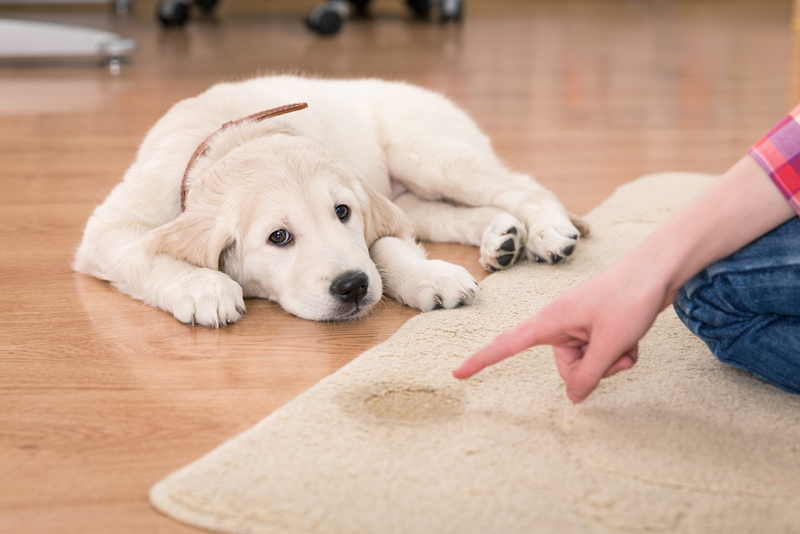 Many people opt for a home or professional carpet cleaning company to clean the mess. While this is a good option, it isn't always necessary. You may be able to save yourself some time and money by working on the stain yourself.
What to do about pet stains and pet smells in carpets
As with any type of carpet stain, the faster you act the better your chance of success. If you notice your pet in the act, neutralise the situation and start on the cleaning immediately. If you aren't so fortunate as to catch your pet then don't stress, all is not lost! Although it will be tougher to clean, it's still possible using the steps outlined below.
You'll need the following items:
White or clear vinegar
Baking Soda (otherwise known as bicarbonate of soda)
A clean cloth
Luke warm or cool water in a bucket
Lemon juice
This small list of items will help you eliminate nearly all pet stains. These items are recommended over commercial cleaners because they are completely natural, won't leave any nasty chemicals behind and are perfectly safe for use in a family home.
Common pet stain remedies
Below are some common pet stains you may have to deal with. No doubt you'll find the solutions quite simple:
1) Urine Stains
Dampen the cleaning cloth slightly and gently pat the stain
A light patting is all that's necessary. Don't scrub as it will embed the stain into the carpet
Apply vinegar in small drops or via a spray bottle
Keep patting until the stain has lifted
Sprinkle the baking soda over the top of the damp area, work in and allow to dry
After 15-20 minutes vacuum thoroughly
Repeat as necessary for particularly stubborn stains
2) Poop Stains
First things first, scoop as much poop as possible off the carpet manually (icky)
You should be left with minimal marks
Use the same vinegar/baking soda combination outlined above to lift the stain
If the stain is particularly stubborn or dried out use an iron. Take an old towel and lay it over the stain. Iron over it and the towel will lift some of the stain, and loosen the rest.
Repeat the vinegar/baking soda procedure once more
3) General Stains
Of course it won't always be 'bathroom' stains your pets leave behind. Often it's general stains such as dirty paws, knocking something over or rubbing their bodies up against the couch. The above cleaning solution will work on most stains. For particular advice on certain kinds of household stains you may want to check out this article.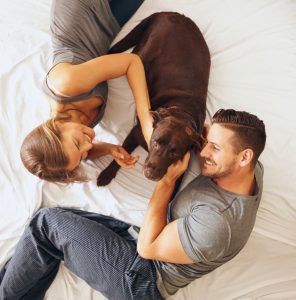 What about the pet smells?
Cleaning the pet stain is only the first part of the solution. To the naked eye the stain can look clean but you may find a smell lingers afterward. This is due to small enzymes of the stain being left in the carpet.
The baking soda will do a good job of lifting the pet smells from the carpet but it's very hard to get it all. That's why you want to follow up with a neutralising agent after your clean. We recommend a dash of lemon juice or Febreze over the stain when you're done cleaning.
If you find the odour is too strong or continues even after you've neutralised it then simply repeat the vinegar and baking soda sequence. It will further break down and lift the stain.
To some of you this might seem like a lot of work. If that's the case you may opt to use the services of a carpet cleaner instead of doing it yourself. However, we highly recommend giving this a go before you get a quote! It's not too difficult, uses completely natural ingredients and is a good skill to have. For those accidental moments when your pet makes a mess of the carpet, you'll be glad to have the knowledge to clean the stains and pet smells yourself.
Comments
comments