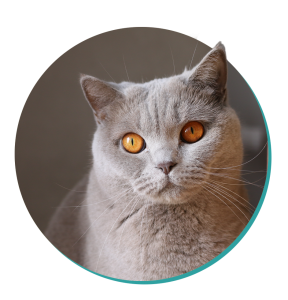 ​Quick Facts
Weight – 5 – 8kg
Lifespan – 12-19 years
Best breed for:
Families with or without children

Adults

Individuals
Personality Traits & Trainability 

★
 These cuties are carefree and do not require constant attention, unlike other breeds. The British Shorthair is quite mellow and calm in nature, making them the perfect cat for virtually anyone to own. Although they like to follow their human friends around the house, this cat prefers not to be picked up, instead, to be treated like a best friend. When it comes to exercise, this is where they may require more attention. These cats love to laze around and would always choose a snooze in the sunshine over being active. It's important to make sure they get plenty of exercise to avoid them they will reverting to their old couch potato selves very quickly. You can check out top tips on how to keep your kitty active here.
Grooming

 ✄
Since their hair is short, it makes the owner's life, a lot easier. No need to worry about knots, matting or excessive shedding, although they will naturally lose some fur through the year. As long as you can brush your British Shorthair once a week, grooming is not a hassle with the British Shorthairs! Too easy!
Health +
Although these cats are healthy in general, the common health problems that may arise including hypertrophic cardiomyopathy, polycystic kidney disease and gingivitis. Many of these diseases are genetic, so ensure to consult with your vet, with the appropriate tests to monitor these issues.   
Fun Fact 

♥
The Cheshire Cat in Alice in Wonderland is based on a British Shorthair!
Comments
comments