Christmas is around the corner! And you know what that means? GIFTS – and more gifts! We have an epic DIY xmas gift that your feline friend will absolutely love, the Hanging Window Basket. Doreen from Hymns & Verses, shared her awesome DIY tips for this fantastic cat bed!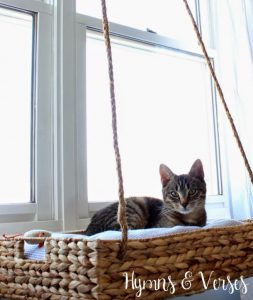 How much is that kitty, in the window?!
No literally – how much is it? You can find everything you need for this cat bed at Bunnings Warehouse or similar hardware stores! It should cost no more than $40 – the basket will cost the most and price depends on what kind of basket you choose!  
What you'll need:
Wooden basket tray

Piece of thin plywood (Ensure the plywood is around 2.5cm smaller than the basket)

2 shelving brackets

Jute rope
DIY instructions: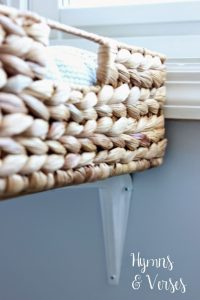 Fix the shelving brackets underneath the window trim to support the cat bed

Screw plywood on top of the brackets and place the basket on top of the plywood.

Drill two holes on both sides of the basket & plywood. Cable tie them for extra support.

Grab the jute rope and feed it through one side of the basket, tying a knot from the inside, so that it can give that "hanging" look

Grab a stool or ladder and feed the rope through the curtain rod, and repeat step 4, on the other side.

Put a blanket or pillow in the basket, ensuring your cat is comfy and stable

Add some tinsel around the basket and on the string, to get into the spirit of Christmas!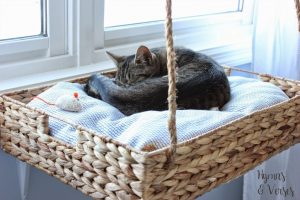 Comments
comments