If your pooch could write… what would he say to Santa? We did a quick survey of the Mad Paws office dogs and this is what they came up with!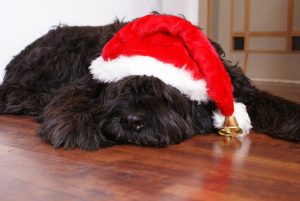 Dear Santa, 
I have been a really, really good boy this year. My owner tells me all the time, so it must be true! Sometimes, people on the street even say it when I walk past wagging my tail, so I know I must be on the nice list this year! Okay…there was that time I stole the food from the counter, oh… and that unfortunate incident of chasing the mail man. But apart from that, I've been on my very best behaviour. I know you have lots of other good boys and girls to visit, but I just have a few requests from you, Rudolph and the gang. 
A shift with the reindeer, pulling the sled (that looks like SO much fun!)

Bacon!! Bacon, bacon and more bacon

To finally make friends with the neighbour's cat (I always go and try to say HELLO but she just isn't interested)

Lots of Christmas dinner leftovers

To finally catch that pesky tail (it's been following me round all year…)

A little furry brother or sister to chase (get one of those ones from a shelter please, I want someone who already knows how to play all the games!) 

Belly rubs on demand

A ball that throws itself (so I can play for hours and hours and hours and hours….)

Some more quality time with my owners 

A leg of ham, just for me

Thanks Santa, I promise I won't woof at you when you get here this year… sorry about that. 
The Dog
xoxo
Comments
comments