To us dog lovers, the idea of losing our four-legged best friends is a pretty heartbreaking one. Our puppers aren't just our pets, but beloved members of our families. But does grief go the other way? Do dogs mourn their Owners?
We decided to find out whether dogs grieve, and if they do, how you can support them.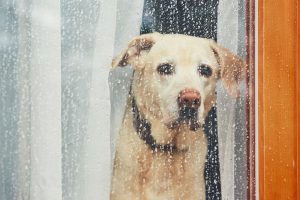 Do dogs mourn their Owners?
We know dogs are sensitive creatures. They experience a range of emotions and moods, from joyful to jittery, stressed to sociable, and annoyed to amused. Sadness is just another part of this emotional spectrum. 
However, the jury's out as to whether a dog can actually grieve the death of their Owner. Some experts say it's entirely possible for a dog to mourn. They believe a dog can comprehend the fact that their Owner is permanently gone.
Others argue that a mourning dog doesn't really know that their Owner has passed away. Instead, their grief is more to do with their Owner's absence. Dogs get very accustomed to their Owner, along with their voice, smell, and routine. When all of that is suddenly taken away, they can stress out over the abrupt change and unexpected disappearance of their Owner. But they may not be aware that the change is forever. 
There's another theory that dogs are simply mirroring the emotions of any humans who are grieving. Dogs tend to feed off our emotions, so if others are sad, a dog may feel the same way.
In any case, a dog can certainly recognise that a loss has occurred.
How do dogs mourn their Owners?
Regardless of whether a dog is fully aware of their Owner's passing, adjusting to a swift change, or grieving empathically, there are key signs that they're upset.
Because dogs can't tell us how they're feeling, we use their behaviour to gauge their emotions. A happy dog, for example, will appear relaxed and playful, and may wag their tail. A scared one might put their tail between their legs, flatten their ears, and cower. 
Sadness can look different between dogs. Some make it incredibly obvious that they're in mourning, while others may only display one or two signs. Others still might keep their grief well hidden, and appear to be the same dog on the surface.
So how do dogs mourn their Owners? If you are looking for clues that a dog is upset, a grieving pupper may display any of the following signs:
Appearing depressed, listless, or sluggish

Decrease in energy

Sleeping more than they usually do

Insomnia during the night

Lack of interest in food and water, or exercise and play

Socialising less with others

Aggressive or destructive behaviour

Weight loss

Dog stress symptoms

such as pacing or whining
Much like humans, the length of time that a dog mourns can vary significantly. Some dogs may mourn for a few weeks or months, then return to their former selves. Others may never get over the grief and will go through a permanent change. This may require a more proactive therapeutic approach or a vet's assistance.
Do dogs mourn other dogs?
Just like dogs can mourn the departure of their humans, it's also possible for them to feel sad over the sudden loss of another dog. This can happen if they've formed a close bond with a dog in the home. Once again, mourning dogs may not realise that the loss is permanent. But they can definitely understand that a regular fixture in their lives has suddenly disappeared.
A dog who is mourning the loss of another dog will display similar behaviours to one grieving the loss of their human. They may also look around the home to try and find the other dog, or become very vocal in an effort to call out to them.
What to do if you have a grieving dog on your hands
Whether you've recently welcomed a dog who has lost their Owner, or another dog in your home has passed away, there are a few things you can do to try and alleviate their grief. 
Try to mimic their old routine
Dogs thrive on consistency. The sudden loss of an Owner can mean a drastic change in routine, which may make a dog feel stressed and anxious. By keeping their regimen uniform, you can minimise the chances of a dog getting upset. 
Try to walk and feed them at the same time each day. Give them the same food. Ensure they have all of their favourite toys and a dedicated bed. Lastly, try to offer them a similar amount of attention and affection as their Owner.
Go the extra mile
A sad dog needs extra TLC during their grieving period. You can support them by offering extra affection and company, and making sure you're dedicating time to their favourite activities. If they love going for long walks, try to keep that up. If they're a big fan of belly rubs, indulging them in a good scratch can help them to feel better.
Assist them with feeding time
If a dog is having trouble eating, they may need a bit of support. You could warm up their food or add a little chicken broth to make it more appetising. You could also hand feed them. As your dog starts to eat more and more, you can eventually transition them back to their usual feeding routine.
It's important that your dog ultimately regains their independence. Otherwise, they can become overly dependent on you to get on with basic tasks, like feeding.
Make sure they get outdoors
Exercise is a great mood booster for humans, and the same can be said for dogs. You could try to coax them into a walk to the dog park, which is not only a great place to exercise, but has the added benefit of allowing them to socialise with other dogs.
If your dog is completely disinterested in going outside, even a few minutes in the garden can help. You can then build up to a short walk around the block before trying longer distances.
Encourage socialisation
The dog park is a fantastic spot for your dog to socialise, but you can also foster interaction with dogs or people in other ways. Invite someone over, or meet up with a friend who has their own dog. If you have multiple dogs at home, see if you can encourage your grieving dog to hang out with them.
Promote play
Play is a great distraction for dogs, and may help a sad pupper temporarily set aside their grief. Grab their favourite dog toys and devote some time to a decent play session. Hide treats around the house or inside a puzzle toy so they can preoccupy themselves trying to seek them out.
Give them time
Dogs need space to grieve. Rushing them along may only compound their stress. Instead, give your dog ample time to fully experience their emotions and let them adjust to the change at their own pace. This may take months, but most dogs will eventually heal.
Seek professional advice
If you're concerned that your dog's sadness is affecting their health, or they just can't seem to shake off their funk, a trusted vet can offer advice on how to help your pupper. They can also perform any necessary tests to rule out the possibility that your dog's depressed behaviour is due to an underlying health issue.
Comments
comments