If you've ever seen a dog sneeze, you'll know just how darn cute it is. Those sniffles! Those snorts! Those crazy facial expressions! The way they throw their whole body into a big, gutsy 'achoo!' Aside from being a mightily adorable thing to watch, is dog sneezing something to worry about? Are dog sneezes more or less the same as human sneezes? And why do dogs sneeze anyway?
If you're curious about your dog's sneezing habits, we've put together a handy guide.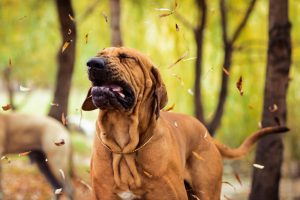 Is dog sneezing similar to human sneezing?
Pretty much! Most of the time, a sneeze happens when something irritates the nose's interior – whether that nose is attached to a human or a dog. No matter the species, the brain then gets to work organising the group of muscles that generate sneezes, before letting out an almighty snort to help get rid of the irritant.
Why do dogs sneeze?
Like humans, there are a few other reasons why dogs sneeze that don't involve something nasty hiding inside their nose. Let's find out what they are.
Play sneezing
Ever seen your doggo indulging in some rough-and-tumble play before letting out a huge sneeze? While it's possible something may have gotten stuck in their nose, a dog sneezing during play is usually a sign that they're really, really excited, and having lots and lots of fun. Wait, you don't sneeze to signal that you're having a great time?
Play sneezing is a very normal type of doggy behaviour. Dogs sneeze while they're playing to let their playmate know they're only joking around and not being aggressive. Their playmate might be you, a neighbourhood Pet Sitter, or another dog, but regardless of who they're having fun with, there's nothing to worry about if your dog is sneezing during play.
Allergies
Everyday allergens like dust, mold, pollen, and other irritants don't just affect humans – dogs can suffer from allergies, too! Various foods are also common allergens among dogs, particularly beef, dairy, chicken, and wheat. If your doggo is sneezing pretty regularly, it might be due to some kind of allergy.
Most often, allergy sneezing happens alongside watery discharge from the dog's nose or eyes, a persistent cough, and itching. If you notice any of these, you might want to take your dog to the vet for an allergy check-up.
Nasal mites
Nasal mites are pesky little critters that can get into your doggo's nasal passage. Rather frustratingly, they're also very easy for your pupper to catch – all it takes is a brief nose rub with another dog. 
If your dog is sneezing and also shaking their head, having trouble breathing, scratching their nose, or experiencing nosebleeds or nasal discharge, a visit to the vet is most definitely warranted.
Illness
If your dog is sneezing constantly, they may have a nasal infection, such as aspergillus fungus. It could also be due to an illness, like the common cold. 
Aspergillus fungus occurs when a dog inhales a fungus, usually from dust or other small particles. Other symptoms of aspergillus fungus include nosebleeds, nasal discharge, and swelling. 
Dogs get colds too, and they can affect your pupper just like they can affect you: think lethargy, fever, watery eyes, and a constantly runny nose.
If any of these symptoms crop up, get your dog to a vet – pronto!
Nasal tumours
Nasal tumours are an unfortunate reality. In fact, they make up around 1-2 percent of all dog cancers. Nasal tumours usually involve symptoms such as sneezing, loud and strained breathing, nasal discharge accompanied by blood, coughing, and facial swelling. Obviously, if you notice any of these, your dog needs to see a vet as soon as possible.
Reverse sneezing
Instead of letting out a regular sneeze, your doggo might appear as if they're gagging or gasping for air. There's no need to get your arms ready to perform the Heimlich maneuver; your pupper is more likely experiencing a reverse sneeze.
Reverse sneezes sound a bit like snorting, and they happen when there's some kind of irritant inside your dog's nose. It's their body's way of trying to get rid of the irritant as quickly (and hilariously) as possible.
Are some dog breeds more prone to sneezing?
While no canine is immune from sneezing, there are certain dog breeds that are more prone to a case of the sniffles. Brachycephalic breeds – that is, dogs that have short noses and flat faces – are a lot more likely to sneeze. They're also more vulnerable to reverse sneezes. Examples of brachycephalic dogs include King Charles spaniels, pugs, bulldogs, Boston terriers, and boxers.
When it comes to nasal tumours, older dogs or breeds that have long noses tend to be more at risk. Long-nosed dog breeds include dachshunds, Great Danes, greyhounds, huskies, German shepherds, and collies.
When dog sneezing is (and isn't) cause for concern
A lot of the time, dog sneezing is pretty harmless – especially if it's a one-off sneeze or only a few sneezes in a row. If this is the case, you don't need to worry.
However, if you notice constant sneezing, especially with any of the following symptoms, you should take your dog to a trusted vet for a check-up.
Fever

Coughing or wheezing

Trouble breathing

Lethargy or a lack of interest in usual activities

Decreased appetite or a complete disinterest in food

Discharge running from your dog's eyes or nose, especially if blood is present

Swelling around the nose

Itching, licking, or scratching

Showing signs of a skin condition
Your vet will perform a number of checks and tests to see what's causing your dog to sneeze. In most cases, comprehensive dog insurance will cover these tests. Your vet will then either diagnose your doggo appropriately or rule out any serious conditions.
Comments
comments