In case you needed a reminder that dogs are the best animals on the planet (don't worry, cats, we adore you too), we're bringing you the story of Hachiko. For this heart-melting, sob-inducing tale, make sure that your own pupper is nearby. You're going to want to cuddle up with your best friend for this one!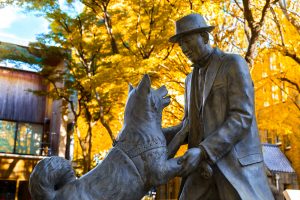 Who was Hachiko?
Hachiko was a floofy Akita born in the Akita Prefecture of Japan in 1923. As a wiggly pup, he was adopted by Hidesaburō Ueno, a scientist and professor of agriculture at the University of Tokyo. Hachiko said goodbye to his mum, Goma (the Japanese word for sesame), and made his way to his new home in Japan's largest city.
For the next two years, Hachi and his beloved Owner were inseparable. Hachiko adapted well to life in the city and would accompany Ueno to the train station every morning to see him off. Without fail, the faithful pup would be on the platform at the end of the day to welcome his best friend home.
Now, this is the sad part, so have the tissues ready. Just two years after Ueno brought his adored doggo to Tokyo, the professor suffered a fatal cerebral hemorrhage while at work. He never came home to meet Hachiko on the platform.
If you don't know much about Akitas, they are some of the most loyal dog breeds in the world. So, Hachiko continued to show up at the train station at the same time every day. If there was a chance that his Owner was going to show up, Hachi would be there with curly tail wagging. 
This lasted for nine years, without fail. Even when Hachiko was adopted by relatives of Ueno in a different part of the city, the clever pup would wiggle out of his new home and make his daily pilgrimage to the train platform.
Despite the fact that Akitas are a symbol of good luck, not everyone was kind to Hachiko. Until he gained national recognition in a news story about the world's most faithful dog, some viewed him as a pesky street dog to be shooed away from the train station. Eventually, the train attendants and locals came to know and love the fluffy pup. Hachiko soon became an international symbol of loyalty and perseverance.
As his fame grew, Hachiko had fans show up from out of town to see the amazing dog in person. These visitors would sometimes sit with the aging pup while he waited for Ueno. He certainly got a lot of head scratches and food scraps from his ever-growing following.
Hachiko and Ueno did eventually reunite
Doggos never live as long as we want them to, and Hachiko eventually passed away at the age of 11 years old. A review of his death conducted in 2011 concluded that he had probably died from cancer and filariasis, a type of infection from parasitic worms. 
The revered pup was cremated and laid to rest alongside Ueno at the Aoyama Cemetery. His coat, however, was taxidermied so that his fans could continue to visit the dog they had come to love. You can still see him today at the National Museum of Nature and Science in Tokyo!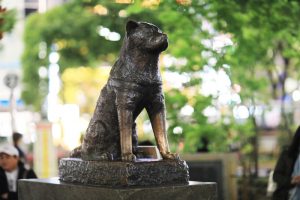 What is Hachiko's legacy?
Hachiko touched the lives of so many people that his story would continue to be told and retold for generations to come.
One way that Hachi has been memorialised is through statues and public art. The first was a bronze statue erected at the Shibuya Station where Hachiko waited for his beloved Owner. In the last few weeks of World War II, the statue was melted down for the war effort, a decision that was not taken lightly. Apparently, the bronze Hachiko received a formal send-off as they took him away. 
The statue has since been replaced so that loyal Hachiko fans can continue to pay their respects. And it's not the only Hachi statue! Another statue of Hachiko and Ueno has been erected in front of the Department of Agriculture at Tokyo University. And a statue in Hachiko's hometown of Odeta also pays homage to the pup.
Hachiko's story has made it to the silver screen not once but twice. The first film was a 1987 Japanese movie called Hachiko Monogatari. The original movie was remade for American audiences in 2009 with Richard Gere as the lead. And, if you can believe it, the American version culminated in yet another Hachiko statue, this one in the small Northeastern city of Woonsocket, Rhode Island.
There are also two children's books about Hachiko, both highlighting this special doggo's steadfast patience and love for his Owner.
Tell us your Hachiko story!
Hachiko's tale resonates with dog lovers around the world precisely because this pup's loyalty and love isn't at all unique! Dog Owners know the feeling of coming home to a tail-wagging, wiggly, excited pupper who just can't contain their happiness that you're home again.
If Hachiko reminds you of your lovable pup, we'd love to hear about it!
Comments
comments