If you're looking for nature's alarm clock, the rooster has nothing on the canine. Yes, the rooster boasts a trademark crow that spells "dawn" in any language. However, if roosters are morning bells, dogs are iPhones with paws, long tongues, and no "snooze" button. For a determined pooch, waking their Owner is their chief mission every morning.
This is fine if your pup's body clock aligns with your daily schedule. After all, what dog lover wouldn't want to start their day with a lick from their furry friend? For those of you who enjoy a sleep-in, though, your pooch's early-morning hijinks could be ruining your rest. 
However, don't despair: your dog can learn to respect your treasured lie-ins. Apply these below tips, and your days of waking up early will be behind you!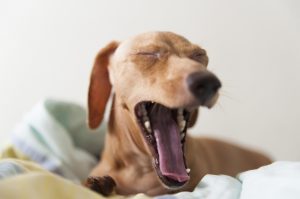 Draw all curtains closed
At their core, dogs are primal creatures. They depend on the cycles of nature to shape their schedule – which means they often rise when the sun does. By drawing all of your curtains closed of an evening, your pooch won't be woken by the sunrise. This can buy you precious minutes (or even hours) before you face the prospect of your dog waking you.  
Walk them late to tire them out
If you walk your pooch in the mornings, they're likely to bounce back by the time you're ready for bed. If, however, you give them a second walk in the evening, they'll burn through their reserves of pep. The end result? You'll increase their chances of sleeping like a baby. Similarly, you should leave it as late as possible before taking them out to relieve themselves of an evening. That way, they'll be less likely to wake you for an early morning bathroom excursion. In fact, why not marry the two? Use your furry friend's evening bathroom break as an excuse for a late night stroll! 
Stand your ground when they try waking you
This tip may seem like the simplest…but it's actually the hardest. Once you've decided on the time you'd like to awaken – say, 7.30am – don't get out of bed a moment sooner. Your dog might whine, bark, leap on the bed, or tug at the blankets. Unless it's an emergency, ignore them. As a loving Dog Owner, this act of resistance will oppose every instinct you possess. However, it will teach them that wake-up time is 7.30am – and not a moment earlier. 
Once you do finally emerge from bed, don't feed your pup until they've been awake for at least 30 minutes. For optimum results, it's best if you don't feed them until you've eaten. If you feed them as soon as they've woken, they'll conclude that wake-up time=breakfast. This will encourage them to wake themselves – and you! – as early as they can. 
Would you like to make your mornings more relaxed? Book a Dog Walker with Fetch by Mad Paws and let someone else walk your furry friend!
Comments
comments