If it were up to us, ALL doggos would have statues celebrating their awesomeness. Until that happens, we'll have to make do with the monuments honouring some of the most extraordinary hounds in the world.
Balto 




New York, USA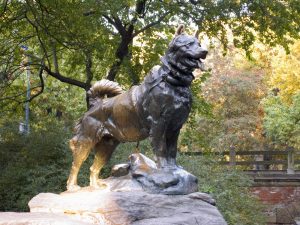 Standing proud in Central Park, New York, this statue honours Balto, a life saving sled dog. In the midst of a diphtheria epidemic in Alaska in 1925, Balto led a team of sled dogs to deliver the only serum that could stop the outbreak. In temperatures as low as -31 °C and near whiteout conditions, Balto led his team and musher almost 800km through the night and saved countless lives with his precious delivery. 
Hachiko 



Tokyo, Japan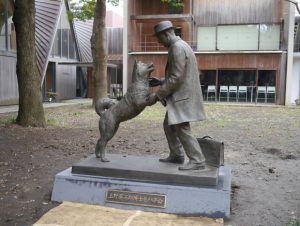 Hachiko the Akita would wait at the train station for his master, a University professor, to return from work. When his owner suddenly suffered a fatal brain haemorrhage and did not return on the train, Hachiko did not give up. He kept up the routine and travelled to the train station every day for ten years, until his own death, hoping his owner would reappear. His loyalty is remembered with a statue at the train station itself and, more recently, in 2015 a new monument was erected at the University where the owner worked, showing the two best friends being reunited at last. 
Islay 



Sydney, Australia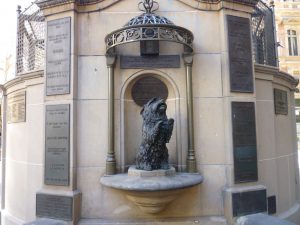 Reportedly Queen Victoria's favourite dog, a statue of Islay the Cairn Terrier is aptly placed outside the Queen Victoria Building in Sydney. Islay sits atop a wishing well, collecting donations for the Royal Institute for Deaf and Blind Children and, through hidden speakers, requests donations with the message "Because of the many good deeds I've done for deaf and blind children, I have been given the power of speech". 
Greyfriar's Bobby 
Edinburgh, Scotland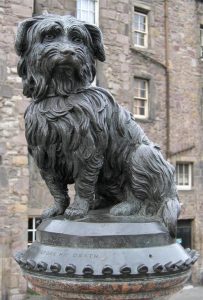 A bronze statue was erected after the death of Bobby, the Skye Terrier, who mourned his owner for 14 years after his death. His owner, a night watchman was buried in an Edinburgh cemetery and Bobby reportedly stayed next to his grave for the next 14 years, until his own death at age 17. Films and books have been written about the loyal pooch whose statue stands in the graveyard where he spent most of his life. 
Dog on the Tuckerbox 



Near Gundagai, Australia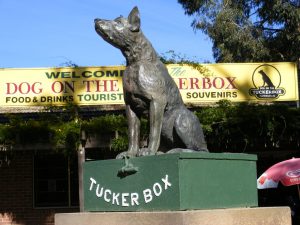 The legend of the Dog on the Tuckerbox started with a poem called 'Bullocky Bill', an ode to the bullocks who opened up the land to settlers, and their faithful furry friends who travelled with them and protected their possessions, including their tucker! The statue honouring the dogs is located around 8kn north of Gundagai, just off the Hume Highway.
Do you have any stories of dogs who deserve a statue in their honour? Or maybe a pooch that already has one? We'd love to know! 
Comments
comments