Finding new ways to enrich your dog can yield a number of benefits. Not only can you manage your pup's energy levels and behaviour problems, but you'll notice a change in their overall wellbeing. After all, puppers love to explore, learn, and try new things, no matter how goofy they may look in the process. And in no time, you'll notice how much more confident, social, and happy your dog is when life is full of these new wonders and challenges.
In this article, we'll cover some easy ways to enrich your dog. You might just find yourself getting something out of the process, too!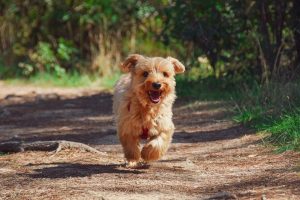 #1: Put on a show
Training isn't just about teaching your dog to be a polite pupper. It can also be a wonderful way to enrich your dog. Training appeals to your dog's innate desire to work, and it challenges their problem-solving and memory skills.
So, if you've already mastered the obedience basics, try making your training sessions more challenging. Teach your furry friend how to rollover, break-dance, fetch specific items, or perfect their yoga poses. 
#2: Be creative with your workouts
Exercise is important for your dog's physical health, sure. But it's also an important way to keep your dog mentally stimulated. Finding creative ways to get their heart rate up is a key way to enrich your dog.
Instead of walking the same route every day, for instance, switch it up and try a new one. Or, if your doggo loves to chase, try them out at lure coursing or dock diving. These highly energetic activities are fun and enriching for your dog.
You can find more ideas on how to mix up the exercise routine by taking a look at our article, How Can I Train My Dog to be Fitter? And, if you want to give your dog some more athletic enrichment throughout the week, make sure to book them a friendly Dog Walker.
#3: Hit the town
Every doggo should be properly socialised for their own peace of mind and the safety of those around them. But did you know it's also an opportunity for enrichment?
Playtime with other puppers, for instance, is much more complex than it looks. It's a way for dogs to learn valuable social skills, like communication, boundary-setting, and de-escalation techniques.
Socialisation isn't just about running around at the dog park. You can also enrich your dog by getting them used to being in public. Seek out your local dog-friendly eateries or parks so that your dog has a chance to build their two-legged social network.  
#4: Hit the road!
If you're looking for ways to enrich your dog that you can also enjoy, you might plan a dog-friendly road trip. A change of scenery is a great way to expose your pup to new sights, smells, and potential playmates. And traveling is a good opportunity for you to test out your pup's obedience training in unfamiliar settings.
That said, traveling with dogs isn't always a stress-free experience, even if it does offer a fantastic way to enrich your dog. Take a look at our article, Should You Take Your Dog Camping?, for some tips on traveling with your furbaby.
#5: Transform your home into a doggy playland
Do you remember what it was like to go to a friend's birthday party when you were a child? Maybe you can picture your excitement upon seeing the party decorations, the array of special snacks on the table, maybe even a jumping castle in the backyard. It was awesome.
You can create that same wondrous scene for your pup. But instead of balloons and cupcakes, your doggy wonderland is going to be filled with dog games, toys, and their favourite treats.
Now, this enrichment activity doesn't have to be as involved as planning a child's birthday party, of course. You can set the stage for your pup by bringing them into another room and then making a few quick changes to your living room. Maybe you set up a DIY agility course by moving a few pieces of furniture out of the way and adding some objects that they can jump over. Or, perhaps you hide a few treats around the room for a fun treasure hunt.
No matter which enrichment activity you choose, these exciting surprises are going to make your pup go wild. 
#6: Go gourmet
Mealtimes are such a brilliant opportunity to enrich your dog. With small changes to your dog's food or eating habits, you can completely revamp doggy dinner time.
Let's start with substance. If your dog has been eating the same kibble their whole life, swapping out their food for something more interesting will have a huge impact. Fresh, flavourful ingredients are not only more exciting for your dog to eat, but they're also healthier. No preservatives, just a bowl of perfectly balanced raw dog food that will have your pupper's neurons firing.
And, let's talk about some eating habits that can enrich your dog, as well. Slow eating bowls are one way to get your pup to think about and enjoy their meal instead of gobbling it down in one breath. 
You might also incorporate your training enrichment, here. Instead of serving your pup the entire meal at once, for instance, have them work for their food. They do a trick, you put a portion of their meal in the bowl. Once they lick the bowl clean, have them do another trick for another portion. Repeat until they've eaten their entire serving. 
#7: Expand your furry family
If you've already been thinking about adding another furry friend to the pack, then here's a good reason to go for it: the extra social interaction is a fantastic way to enrich your dog. After all, it's hard to be bored when you've got a playmate right at home!
If you are thinking of expanding your furry family, it's a good idea to look for a playmate with similar energy levels as your doggo. A senior dog, for instance, may feel more cranky than enriched with a young puppy in the house. In that case, a slightly older playmate might be more appropriate, while still making your old pup feel young again.
How to enrich your dog at their pace
Not all dogs are ready to expand their horizons, and you might find it hard to enrich your dog if they're generally nervous and shy. Even so, we would still encourage you to try! After all, the right enrichment activities can help your dog gain confidence. And once you find the right ways to broaden their mind, they'll be happier, healthier doggos.
Here are a few things that you can do to enrich your dog at their pace:
Keep your enrichment activities short

. Training sessions, obstacle courses, and outings to crowded places are best done in moderation, especially if your pup is easily overwhelmed.

Start small and adjust your goals as you go

. The key to enrichment is keeping your dog engaged with incremental changes and challenges. It's better to slowly increase the intensity of their workouts and training sessions than bombard them with too many changes up front.

Don't give up! Your dog is going to be ready for new enrichment ideas and activities before you know it. So, even if they seem to be having a blast now, be thinking about new ways that you can engage them in the future! Your pup will never be bored, and you'll have fun coming up with creative ways to enrich your dog! 
Comments
comments