The idea of taking your dog camping strikes an appealing image. You can just picture them snuggling up in your sleeping bag, or maybe enjoying some morsels from your campfire BBQ. And won't they just love being in the great outdoors? It's their true element! However, taking your dog camping is often an expectation versus reality meme-come-true. In real life, Dog Owners who travel with their pup need to scour for spots in one of the few dog-friendly campgrounds. They have to ensure their pupper isn't trampling on the local wildlife or putting their snout in a snake den. Beyond that, there's no guarantee that all doggos will actually enjoy being plopped into a whole new terrain.
That's not to say that camping with dogs is impossible. After all, there are plenty of Dog Owners who have learned how to successfully camp with their canine companions. If you're unsure, though, the following questions will help you decide whether you should take your dog camping.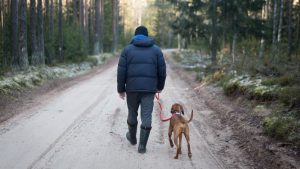 #1: Is the area you're visiting dog-friendly?
Many of Australia's beautiful, wild landscapes are off-limits to doggos. And it's understandable. Even seemingly harmless doggy behaviours, like rolling around in the mud or chasing after a butterfly, can damage carefully-preserved native ecosystems. If we want to enjoy the Australian country, we all need to respect the no-dog policies of our protected areas.
Because of this, it's crucial that you look into the dog-friendliness of the area you'll be visiting. Are there campgrounds that allow pets? What about the surrounding walking trails, lakes, and beaches? If you're planning to stop and dine, it also pays to make note of popular dog-friendly restaurants on the East Coast. 
Should you struggle to find dog-friendly amenities along your route, you might consider leaving Fido with a Pet Sitter. If not, you may find yourself in a situation in which neither you nor your pupper can enjoy your holiday. 
#2: Do you have the doggy supplies?
In addition to all the supplies you'll need to enjoy your camping experience, from tents to BBQ equipment to mosquito repellent, your dog will need a few items as well.
These should include:
A big enough tent to accommodate your doggo. Not all Dog Owners like the idea of sleeping with their dog. However, it's the best way to keep your pup safe while camping

Any medications they take 

Water and food bowls

Enough top-quality dog meals to last the entire trip. You don't want to have to switch to the generic dog food offered at the local pet shop; doing so will likely give your furbaby an upset stomach 

More than one leash and harness

Poop bags. Lots and lots of poop bags

Doggy booties, to protect your pup from hot surfaces

A few chew toys to keep them busy and calm
#3: What kind of wildlife might deter your dog camping in the area?
Now, you don't have to memorise the list of poisonous spider or snake species that might reside near your campsite. However, it's worth having a general idea of the kinds of wildlife your pup might come across. 
For instance, if you have a tiny terrier in an area with large birds of prey, you'll have to be hyper-vigilant every time your pup takes a stroll outside. Or, if you're visiting a region filled with kangaroos, you'll want to leave any high-prey drive doggos at home. As quirky as the thought may be, you don't want to see your pupper in a wrestling match with a large male roo.
We would also recommend that if you have a pooch with a powerful nose (which most dogs do), you take special precautions to keep them from sticking their snout in any holes, crevices, or corners where small critters might be hiding. Parasites like ticks and fleas are also common in areas with long grasses, so preventative medications can help to lower the risk of your dog picking up hitchhikers.
#4: Will there be a vet nearby?
Whenever you travel, it's a good idea to locate the nearest vet, and know whether they're open for emergencies. From stomach upset to allergic reactions to run-ins with wildlife, you'll want to make sure that your dog has access to medical care if they need it.
If there's no vet near the camping site, it's probably best to avoid the risk. 
#5: Is your furbaby up for the dog camping lifestyle?
Some dogs arrive at the campground like they were destined to live life in the country. Other puppers aren't quite so sure. As we mentioned in our article, Should City Dogs Spend Time in the Country?, not all dogs react well to the change. 
Some dogs, for instance, may be more susceptible to heat exhaustion or heat stroke, especially if they fall in the brachy-breed category. Others may suddenly become fearful in a setting that's unfamiliar.
Since you know your pup's personality best, you'll be able to predict whether they'll have loads of fun or prefer to stay with their Sitter!
After thinking it through, will you be taking your dog camping?
The intention behind these questions has been to help you navigate the tough choice between taking your dog camping or leaving them in the care of a local Pet Sitter. Whatever decision you land on, your pup will appreciate your thoughtfulness.
Happy camping!
Comments
comments