Owners of city dogs may be familiar with this scenario: you're packing for your next big trip to the country but all the while, you're followed by big, sad eyes. Your pup is devastated that you're leaving them behind. For your part, you might be wondering whether you should bring them along.
Understandably, bringing city dogs to the country raises some questions. Would your city dog be happy in the country? Would they be safe? Do you run the risk of spending your entire trip worrying about your pup?
In this article, we're going to cover the pros and cons of bringing city dogs to the country. This way, you can finally decide whether they should come with or stay home.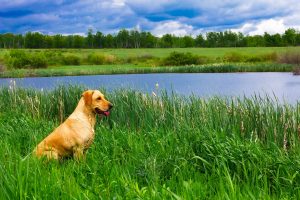 Pro: City dogs love exploring the world outside the city
Even if you've lived in the city all your life, you can appreciate the joy of escaping it at times. For your dog, that feeling is even more pronounced. Every new place that they explore is like a trip to another planet, complete with new sounds, smells, and potential furry friends to meet.
You'll be amazed at how puppy-like and excited your doggo will be in their new setting. Being in the great outdoors often opens up a set of natural instincts you didn't even know your pupper possessed. 
Con: Acclimating city dogs to life in the country can be a challenge, at least for the first couple of days
On the one hand, you'll have a dog who is excited from the get-go. These city dogs are ready to jump into that river or dig under that rock, usually without a thought to their human companions. And, while that may be fun for your furry friend, it can be a bit tiring for you.
On the other end of the spectrum, there are the city dogs who will feel a bit nervous about the prospect of the wilderness. After all, change can be scary! As such, these doggos may want to head back to the car before the adventure has even begun.
Just like the over-excited pooch, the fearful Fidos will also be a bit of a handful at first. Until these city dogs start to build confidence, it will take some extra energy to make them feel comfortable. 
Pro: They'll get great exercise and even better mental stimulation
Whether your trip consists of hiking through the mountains, splashing around on new beaches, or visiting some of the most iconic landmarks in the Outback, your pup is likely going to sleep like a rock at the end of each day. 
That's because exploring new places with your dog is wonderful exercise, and it provides much-needed mental stimulation for your pup. Science shows that these kinds of environmental stimuli are great for a dog's health and wellbeing. The more you can provide them with fun, challenging, and unique experiences in nature, the better off they'll be!
Con: City dogs and wildlife just don't mix
Any Dog Owner living outside of the city will tell you that dogs and wildlife can be a risky combination. Even with proper obedience training, many Owners have horror stories about snake bites or wild animal chases. In fact, clashes with wildlife are one of top reasons for vet visits in rural areas.
You'll also notice that Dog Owners in the country take special precautions to protect their pups from wildlife. Raised dog runs or kennels are popular because they lower the risk of snake and tick bites. Moreover, you'll see fences, sometimes with hot wire, to prevent dogs from chasing after wild animals. Finally, these dogs tend to have excellent recall skills—their Owners are able to catch their attention before they get into scary situations. 
You may not be able to provide your pup with all of these special precautions, so you will have to pay close attention to your dog at all times. If you're not confident that your dog will be able to stick with you when there are wild animals nearby, it's best to stay on leash. And, make sure you read up on our article Insect Bites on Dogs and Pets: How to Treat Them before you go.
Another thing to remember is that these precautions are for our native species' benefit, as well. Ultimately, our rural ecosystems belong to the animals who have called them home for millenia. As such, it's our responsibility to limit the impact of our country and city dogs on their habitat.
Pro: Dogs are friend-makers, which is a huge benefit when you're traveling
The best way to experience any new place is by making friends with the locals. It just so happens that dogs are pros at making friends! 
You'd be amazed at how much richer your day-to-day exploring can be when you've got a doggo in tow. Before you know it, you'll be chatting about restaurant recommendations, the nearest dog park, and upcoming dog-friendly events that you would have never heard about!
Con: Some city dogs struggle with the heat
High temperatures of some country settings may be a shock to dogs, particularly if they fall in the Brachy breed category. Owners of Boxers, Bulldogs, and other short-snouted dogs should be especially vigilant about heat exposure in the country.
And it's not just the more vulnerable breeds who may struggle with the heat. After all, when you're in your own neighbourhood and the temperatures rise, it's easy enough to get your dog back home and blast the air conditioning. But when you're traveling, it may be more difficult to find dog-friendly establishments where your dog can cool off. 
You can read more about the risks of heat exposure in our article How to Spot and Treat Heat Stroke in Dogs.
Pro: Think of all the great pictures!
You probably have hundreds of pictures of your photogenic pooch already, but traveling offers up even more exciting backdrops. Don't hesitate to snap pics of your pup splashing in the ocean, or looking triumphant at the edge of a canyon. Or, our personal favourite: a closeup of your pup's thoughtful eyes reflecting gorgeous country landscapes.
Pack your good camera because these pictures will be frame-worthy!
Con: Not all of those picturesque landscapes are open to dogs
Unfortunately, puppers may not have access to all of the beautiful places that we can explore on two legs. Many national parks and other protected areas are able to maintain the natural ecosystems by ensuring the absence of non-native animals—i.e. domestic dogs. 
One common mistake we see is Dog Owners deciding to bring their pup at the last minute, only to realise that many of the activities on their to-do list are not dog-friendly. Make sure that you plan out a trip with a furry friend carefully to avoid disappointment!
Pro: No matter where you go, Mad Paws can help
The next time you plan a trip to the country, Mad Paws can help you fill in the gaps in your dog-friendly itinerary. With Doggy Day Care in whichever regional area you'll be visiting, you can be sure that your pup will have a blast even on the days when you can't bring them along to the national park or indoor museum. This is also a great option for when you're worried about high temperatures being too much for your pup.
In the care of a friendly Dog Sitter who knows the area, you'll have peace of mind that your pup will be safe and happy while you're away.
So, what's the final decision? Will you be bringing your city dogs to the country?
The fact that you're thinking about whether your pooch will be set out for a trip to the country means that you have their best interest in mind. We hope that these pros and cons of bringing city dogs to rural areas have helped you to decide whether your doggo will be happiest staying at home or out on the road with you. Either way, Mad Paws Dog Sitters can step in whenever you need them!
Comments
comments