You know what would make your upcoming holidays even more special? Having your pet at your side! With a little creativity, flexibility, and perhaps a friendly Dog Sitter waiting to lend a hand at your destination, you can give your canine or cat an adventure they'll never forget.
We've got some ideas for pet friendly holidays that are sure to make you start packing an extra bag for your furry friend.
Benefits of taking your dog on pet friendly holidays
Fido definitely wants to come along on all of your upcoming adventures. But, there are a few benefits to planning pet friendly holidays that you might not have considered! Here are a few reasons why travelling with your pet is good for you both:
New experiences are a brilliant way to socialise your dog.

No matter your dog's age, they can still benefit from exposure to new sights, smells, people, and activities
You'll get some special bonding time with your pup.

Holidays are a wonderful time to relax and recharge, and that's part of what makes them such ideal opportunities for bonding with your dog! Without having to worry about work and other responsibilities, you can focus on enjoying time with your furry friend
Travelling provides your dog (and you!) with mental enrichment.

Pet friendly holidays do a great job of awakening your senses, and your dog's much more powerful ones! 
Your dog will introduce you to new people.

Meeting new people is a true gift of being on holiday! And with a doggo at your side, you're bound to make new friends wherever you go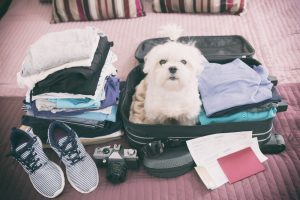 By including your pets with you during your travels, you can have a holiday to remember! Now let's take a look at some ideas for pet friendly holidays. 
#1: Pack the esky for a beach holiday
Beaches are some of the most dog-friendly destinations you'll find throughout Australia, so it's no surprise they're at the top of our list! 
Your pupper will love digging holes in the sand, chasing waves, and relaxing under the beach umbrella next to their favourite human. Here are a few beaches that allow dogs and are excellent for pet friendly holidays:
Tallow Beach in Byron Bay NSW

Tathra Beachside in Tathra NSW

Foreshore Reserve in the City of Kingston VIC

St Kilda Beach in Melbourne VIC

Christies Beach in Adelaide SA

Coles Beach in Devonport TAS
Whether you're planning a day trip to a nearby dog beach or organising a longer road trip with dog beaches along the way, your pupper will have a blast at the beach!
#2: Plan a camping trip with Fido
For doggos who love trekking, taking in the sights and sounds of local wildlife (from a distance!), and cuddling up at the end of the day in a tent, camping is a great option for pet friendly holidays. Keep in mind that you likely won't be able to bring your pooch to state or national parks as a way to protect local ecosystems. But, lucky for your furry friend, there are many options for camping throughout Australia, such as:
Ingenia Holiday Parks.

With 36 different locations to choose from in NSW, QLD, and VIC, you can certainly find a place to camp with your pooch in your ideal holiday destination. They've got hookups for caravans and areas for tent camping, plus plenty of amenities to make camping as relaxing as can be
Coachwood Camping area in Chichester State Forest NSW.

Tucked into the woods of Chichester State Forest, this dog-friendly camping area offers relaxation for you and plenty of sniffing around for your dog
Turon Gates in Capertee NSW.

This pet-friendly camping area is located in the picturesque Blue Mountains and is perfect for a getaway with your pup. They offer luxury cabins and glamping tents so you can travel in style with your dog
Lerderderg Campground in Lerderderg State Park VIC.

Lerderberg is a wonderful area to see wildlife and enjoy your favourite outdoor recreation activities. This campground is free, dog-friendly, and first-come first-serve, so load up and claim your spot!
Big Brook Arboretum in Pemberton WA.

Known for some excellent bushwalking, Big Brook Arboretum is an excellent dog-friendly choice for your camping trip in WA. Bring your tent, campervan, or caravan and enjoy this tranquil tree-filled camping area
#3: Take a holiday to wine country
With a glass of wine in one hand and a dog leash in the other, you can have a relaxing holiday in your favourite wine region. Dog-friendly wineries are becoming more and more popular, and your pup will love the chance to walk through picturesque vineyards at your side. If you have a favourite winery in mind, give them a call to see if they accommodate pets. Or, add one of these dog-welcoming wineries to your list:
De Bortoli Wines in Dixons Creek VIC
Alpha Box & Dice in McLaren Vale SA
Cape Naturaliste Vineyard in Yallingup WA
#4: Plan a staycation
Who says you have to go out of town to enjoy a fun pet friendly holiday? Avoid the hassle of travelling long distances with your pet by planning a staycation at a dog-friendly hotel or Airbnb close to home.
Put together a list of dog-friendly restaurants, cafes and parks to explore with your furry friend and enjoy your city through vacation eyes! It's a wonderful way to unwind and explore nearby neighbourhoods.
Tips for successful pet friendly holidays
Once you've decided on the kind of holiday you want to have with your pet, you can start getting ready for your upcoming trip! Here are a few final tips that can help you make the most out of your time with your canine copilot:
Be mindful of car sickness.

If you know that your dog suffers from motion sickness on the road, prepare ahead of time by keeping their pre-travel meals light and trying your best to keep the drive smooth
Book a Dog Sitter at your destination.

Having a Dog Sitter available in the area where you'll be visiting can be a huge help so that you can have a few hours to visit landmarks and restaurants that aren't dog-friendly
Bring comforts from home.

Being in a new place can be unsettling for some doggos, so having their favourite blanket or toys is a good way to keep them calm and comfortable
Remember to have fun!

Travelling with a pet can pose some challenges, but don't forget to slow down and enjoy the moment! Before you know it, you'll be back home, looking for more options for future pet friendly holidays!
Comments
comments