Keeping dogs entertained can be a tiring exercise – there's only so many times you can throw a ball, right? Mental stimulation is just as important as physical for your dog and interactive dog toys and puzzles are a great way to keep their minds busy. We've rounded up the best interactive toys on the market and a few DIY puzzles too!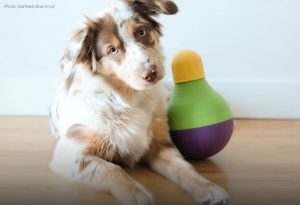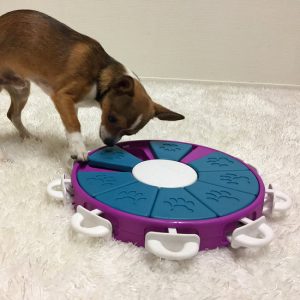 Nina Ottosson Toys 
Nina Ottosson makes a fantastic range of puzzle toys, starting from relatively simple to multi levelled and complex. A simple toy like the Dog Treat Maze which you top up with small treats and leave it to your dog to throw around to release them, or the more complicated Dog Twister which requires parts to be removed in order to release the treat. Although based in Sweden, Nina Ottosson ships worldwide or has plenty of stockists in Australia. 
Kong 
Almost every dog owner has a Kong treat dispensing toy laying around somewhere in the house or garden. For some dogs, filling the classic Kong toy with small treats is enough to keep them entertained. For more of a challenge, try filling with treats and then plugging the hole with peanut butter or pop the Kong in the freezer once stuffed with treats to make it more challenging to empty. 
Homemade toys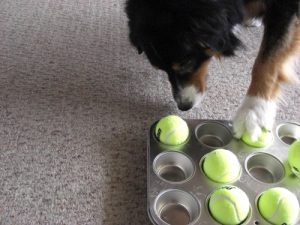 It's possible to make all kinds of puzzles for your dog using things from around the house. Fill a muffin tin with treats and then plug the holes with tennis balls – your pup will need to remove all the balls to get to the treats! How about filling an old cardboard box with treats and letting your pooch enjoy destroying it to get to the treats! Or use an old tissue box, fill with toilet roll tubes and hide treats within the tubes. Your dog can have lots of fun before it all heads in the recycling bin!
Busy Buddy 
Busy Buddy have a range of relatively simple interactive toys, such as the Waggle, which require your dog to throw, roll and chew to release treats. Although they are less complicated than the Nina Ottosson and other toys, they are great to keep your dog entertained for short periods of time. 
To keep your dog happy and busy during the day, book a Mad Paws Sitter for Doggy Daycare or Walkies!
Comments
comments