When Grace Pet Sits a furry client, it isn't a one-off commitment. In fact, she makes a habit of forming long-term bonds with the pets she minds. Learn what makes this Pet Minder in Kelvin Grove QLD worthy of our January Pet Sitter of the Month title!

Why do you love being a Mad Paws Pet Pet Sitter? 
I love being a Mad Paws Pet Sitter because of the amount of furbabies I get to meet, care for, and look after.  Having been able to care for some young puppies and see them grow overtime brought a tear to my eye. It was also amazing to see that they remembered me each time!
Beyond that, I love the diverse of options that Mad Paws offers to clients and their furbabies, from Pet Sitting, to House Visits, to Dog Walking. I have been very fortunate since commencing my Mad Paws journey and I honestly wish I'd signed up years ago.
What's your favourite thing to do with your furry clients?

 
I love playtime, walks, learning about their personalities, and observing their curiosity of the world around them.
What was the first pet you ever owned? Do you have your own pets now?

 
The first pet I owned was a fish when I was 12 years of age. While I unfortunately don't have my own pet now, I should hopefully have one in the next few years.
Do you have any particularly memorable furry guests?
Since starting, I've had a few memorable furry guests. However, one that always stands out is my very first Pet House Sitting booking on December 2018. Their names were Pedro, a 14-year-old Labrador Retriever; and Hank, a Russian Blue cat. Being able to see the dynamics of both Pedro and Hank was fascinating; they always napped together, and even fought like siblings at times. Pedro demanded all the pats and wanted to leave none for Hank! When I was told that Pedro might not make it to the end of the year, my heart sank. With this in mind, I made sure Pedro would enjoy his time and week leading into Christmas with his family.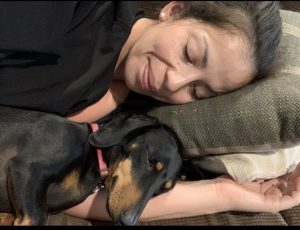 If your furry guests could talk, what one question would you ask them at a Meet & Greet? 
"Will you accept a stranger looking after you and if so, would it be okay if it was me?"
What's your one top tip for new Pet Sitters?
Be yourself, be honest, be reliable, and send heaps of updates and photos of the furbabies to their Owners. Most of all, remember to have fun! 
Comments
comments