Halloween is here and along with costumes, lollies, tricks and treats, there are a few hazards to be aware of to keep our furry friends safe. Check them out and make sure your little monster is kept safe on the spookiest day of the year.

No Sweet Stuff 
Most of us know that Theobromine in chocolate makes it very dangerous to dogs if ingested. But did you know that lollies are poisonous too? Most lollies contain a sweetener called xylitol, which is extremely toxic to dogs.. Don't let you pooch anywhere near the lolly stash and make sure your children or trick-or-treaters are not sharing with the family furball. 
Watch the door 
A steady stream of people turning up on your doorstep in strange costumes can be very unsettling for your dog and can result in escape attempts or uncharacteristic aggression. It's best to keep Fido with you in a room far away from the front door and all the zombies, witches and monsters approaching.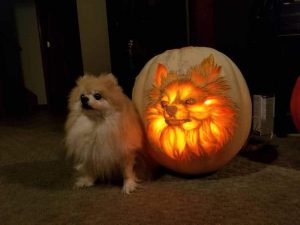 Pumpkins
A flick of a tail or rambunctious game of tug-of-war could end badly if there are naked flames nearby. Either use battery operated candles or place pumpkins and other decorations way out of reach of four legged beasts. 
Costume 
Some pets love 'em (like these) some hate them. At the risk of pointing out the obvious, don't put your pet in a costume if you can see it makes them uncomfortable. Pets pawing at costumes and rolling around trying to remove them isn't cute, it's your furry friend trying to tell you they're irritated at best, uncomfortable or in pain at worst. If your pet becomes withdrawn or seems annoyed by the costume, take it off immediately. Costumes should never restrict movement, eyesight or hearing and pets in dress up should never be left alone, in case they become tangled or trapped by their new outfit. A Halloween bandana is always a good compromise! 
How was your halloween with your pet? Let us know in the comments below! 
Comments
comments