Maybe sometimes you look at your dog and think: "Wow, I wish I could have brought home the whole litter!" Well, those who believe in Littermate Syndrome might try to talk you out of that particular fantasy. According to the condition in question, puppies raised with one or more siblings from the same litter are more likely to develop behavioural challenges, including separation anxiety and aggression.
But, is there any truth to this theory? If you are interested in bringing home more than one pup from the same litter, are you destined to have a couple of pups who will give the vet, their local Dog Walker, and all your neighbours a hard time?
Let's pull back the curtain on Littermate Syndrome!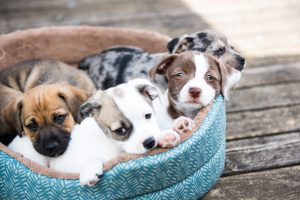 Is there any scientific evidence to suggest that Littermate Syndrome is real?
No. To date, no scientific studies have shown that littermates are more prone to behavioural issues than dogs raised apart from their siblings. 
You might say, of course, that just because a phenomenon hasn't been studied doesn't mean it's not real. And that's certainly true. But, without peer-reviewed studies to turn to, all we have at our disposal is anecdotal evidence. And while you will absolutely find anecdotes of Dog Owners sharing their struggles with raising littermates, you'll also find plenty of success stories, as well.
Until we have scientific proof that Littermate Syndrome is real, all we have is speculation.
If there's no scientific proof, what makes the theory so popular?
Even though there are no scientific studies on Littermate Syndrome, it is useful to consider why the theory has survived. Because, we don't doubt that Owners adopting more than one puppy from the same litter have come up against some behavioural issues! The reality is, though, that it might have had more to do with the humans than the dogs.
Let's face it, raising one puppy is hard. Raising two is downright overwhelming. Here are a few reasons why behaviour problems may arise when a Dog Owner takes on littermates:
It can be difficult to give siblings adequate alone time.

Every puppy needs to build up their tolerance to be alone. Without this training, they can develop

separation anxiety

, which is not only destructive, but also psychologically painful for a dog. Puppies who spend all of their time together may miss out on that crucial training.
Puppies aren't great at sharing.

Maybe you're considering littermates because you've fallen in love with your pup and the runt of the litter. But, when you take them home, you realise the stronger pup is quite a little bully. In turn, the smaller pup has developed a nasty habit of guarding their toys and food. Unfortunately, resource guarding is not uncommon in puppies of the same age, and will need to be addressed for the wellbeing of both dogs.

 
Every pup learns at a different pace, which can lead to gaps in training.

Even with the strictest breeding standards, dogs within a litter are never going to be exactly the same. Some will master commands in just a couple of sessions while others will take days or weeks to learn the same thing. The result? Owners may find themselves focusing on the slower-paced puppy while the quick-witted one is off finding their own mischief. Or, they might be tempted to quicken up the training process to keep up with the fast learner at the expense of the one who needs a little more time. It's a conundrum that will give you newfound respect for school teachers but a bit of a headache with littermates.
Sibling playtime is not a good substitute for intentional socialisation.

Proponents of Littermate Syndrome often warn that littermates develop an in-pack/out-pack mentality, sometimes leading to dog aggression. This is possible, but definitely avoidable. Because, while it may be tempting to skip a trip to the dog park after a sibling romp around the backyard, puppies need interaction with older well-adjusted dogs who can teach them proper manners. If littermates only play amongst themselves for too long, then yes, every trip to the dog park will be a rude awakening. The puppies may be frustrated that the dogs at the park don't know their play rules, and the dogs at the park may lash out at their lack of manners.
Littermates reach sexual maturity around the same time.

As we covered in our article on

doggy teenagerdom

, puppies reach sexual maturity somewhere between 8 months and a year old. And, unfortunately, this age is overflowing with teen angst and boundary pushing. What's more, dogs don't have much of a regard for our human concepts of siblinghood, so you might find that your once playful pair is now sizing each other up as potential breeding mates or, if they're the same sex, as rivals. Until everyone's been properly spayed or neutered, having two sexually mature pups in the house can be a lot to handle. 
As you can see, the behaviour problems that arise when caring for littermates has less to do with familial ties and more to do with environment and training. In other words, if you adopted more than one puppy of the same age from different litters, you would likely experience the same challenges.
Luckily, there are ways to meet the needs of littermates or puppies of the same age!
How to put Littermate Syndrome to rest for good
The potential problems that come with having two puppies of the same age might be enough to turn you off of the idea of bringing home littermates. But, to be clear, it is possible to raise two puppies of the same age to be well-adjusted, wonderful doggos. If you're committed to giving each pup the attention and care they need to thrive, it can be a rewarding experience.
Here are a few tips to raise littermates the right way:
Crate train separately.

If you have the space, you'll lower the risk of your puppies developing separation anxiety by setting up their crates in different parts of the house or getting them used to being in separate puppy-safe rooms. 
Be proactive about resource guarding.

If you notice the first signs of resource guarding, you might consider feeding your puppies separately. In the meantime, you'll want to work on counter-conditioning so that your puppy learns that sharing is caring. 
Follow a personalised training plan for each puppy.

If you've ever tried to get the attention of two puppies at the same time, you probably already know that it's a bit chaotic. They're likely to distract each other and push each other out of the way for a treat. Training them separately will take twice the amount of work, but it's the best way to maintain their focus and personalise their training plan for their learning pace. This could mean calling on a family member so that each dog has a trainer, or training one puppy while the other is in another room or focused on a chew toy.
Give each puppy some one-on-one time.

You want your puppy to be able to develop their own personality, especially when it comes to the less-assertive pup of the two. This could mean one-on-one playtime or having one pup stay for a while at a friendly Pet Sitter's house while you take the other for adventures. 
Make an appropriate decision about

desexing

.

You may have your own reasons for deciding whether to desex your dogs or not. But, keep in mind that desexing could prevent some unwanted and even dangerous behaviours between dogs of the same age, as well as unwanted pregnancies.

 
Don't forget to socialise!

Older well-trained dogs are such an incredible resource for young puppies. Make sure that your little ones have plenty of opportunities to learn from their furry elders so that they grow up with great doggy manners!
With special considerations and care, it is possible to raise two puppies at the same time. It does take a lot of extra work! So don't hesitate to build your support team of Pet Sitters, family members, and fellow Dog Owners to make things a little easier. 
Now that we've shed some light on Littermate Syndrome, would you consider taking on two wrinkly furbabies?
Comments
comments