When it comes to dog toys, you've got a plethora of choices: balls, sticks, frisbees, puzzles, stuffed toys, treat dispensers, chew toys, and more. Dig into a single type of toy and the variety becomes even wider. (Stuffed bear or stuffed rabbit? Treat maze or treat ball?) Especially when you're deciding on a chew toy for dogs, there's a lot to consider.
What makes a good one? What makes a bad one? And why does my dog even need a chew toy anyway? We get that picking the right toy can be quite the conundrum. So, to save you from chewing over your decision, here's everything you need to know about chew toys.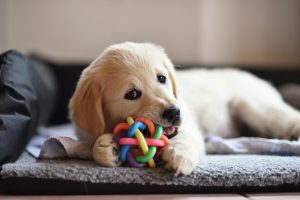 What are the benefits of chew toys?
Where do we begin? There are so many benefits to giving your dog a chew toy. Here are some of the top ones:
Dogs simply need to chew.

Chewing is a natural behaviour for dogs. It helps them understand their environment, and it's simply a lot of fun. Left to their own devices, though, and you might find that your dog meets their need to chew by chowing down on your favourite pair of shoes. Instead, a chew toy provides your doggo with an outlet to chew to their heart's content



Chew toys keep dogs stimulated.

Chew toys provide lots of mental stimulation. This is because they force your dog to focus on something for a prolonged period of time



They're also pretty good for their teeth and gums.

Chew toys are great for boosting your dog's dental health. The chewing action stimulates saliva production to help clean your dog's mouth, and can scrape away tartar buildup. And if you've got a

teething puppy

on your hands, a chew toy can actually soothe their teething pain
They help relieve

dog stress

and anxiety.

Some dogs will engage in chewing behaviour when they're stressed or anxious. Chew toys are perfect if your doggo is prone to stress-induced chewing, as they keep them relaxed and preoccupied
What kinds of chew toys are available?
There are lots and lots and lots of chew toys on the market. The most common types include:
Rubber toys, many of which are hollow so you can put treats inside

Dental chew toys with special coatings or ingredients that improve your dog's dental health

Rope toys

Edible chew toys

Chew toys made with real wood or meat

Fake bones or sticks

Teething toys and rings, which are mostly designed for puppies

Chewable soft toys

Rawhide chew toys and other animal products like pig ears (these are a little bit contentious among dog experts and Owners – more on that soon!)
Why is it important to buy the right chew toy for dogs?
There are some important things to keep in mind when picking a chew toy for dogs. This is because not all chew toys are created equal. You'll want to look out for a few key features to ensure you're getting a safe, quality toy that's right for your dog.
Unfortunately, some toys can splinter or have small parts that break off easily. These may end up in your pupper's digestive system, which can lead to pain, irritation, or vomiting. In some cases, a dog will require surgery to remove any stray bits of toy from their stomach or intestines. 
Some chew toys are simply too hard for your dog to chew on. If they're struggling to chew on something, they may chip or break a tooth, or even suffer a mouth injury. Sounds pretty nasty, doesn't it? If your dog is having a hard time eating, or bleeding from their mouth, take them straight to the vet.
And even if you find the perfect chew toy, it's important to supervise your furbaby while they're chomping on a chew toy, just in case things go awry.
What makes a good chew toy for dogs?
In short, the best dog toys are durable, high-quality, and provide lots of fun for your doggo. But here's what to look out for when specifically chew-sing a chew toy.
Make sure it's the right size for your dog
Size is a big factor when selecting a chew toy for dogs. Too big and your tiny pupper will struggle to get their chompers around it. This could result in an injury to their jaw. Too small and your giant furry friend could choke. To make things easier, many toys indicate on their label which size of dog they're most appropriate for. 
Assess the hardness of the toy
Some toys are designed for aggressive chewers, while others are made for light nibblers. The former tend to be firmer, and the latter are usually a bit softer. Understanding your dog's chewing style will help you pick the right firmness.
Regardless of their chewing style, though, make sure you choose a toy that has a bit of give. Gently squeeze the toy to make sure it's not rock-solid. If it's too hard, your furry friend could damage their teeth or mouth. 
At the same time, you don't want the toy to be too soft. If your doggo can easily tear it to shreds, they could end up with a tiny piece of chew toy somewhere in their digestive system. That's why soft toys are generally not advised for aggressive chewers.
Check that your dog can't swallow any parts of it
Good chew toys won't have any parts that are easy to detach, like strings, ribbons, buttons, or other bitsy things. If your dog tears off one of these bits, it could make its way into their stomach or intestines. Instead, a solid toy with minimal decoration is a better choice.
Ensure your chew toy for dogs is easy to wash
With all that chewing going on, naturally a chew toy can start to get a little grimy after a while. The best dog toys are easy to wash and disinfect. Bonus points if you can safely chuck the toy in the dishwasher or washing machine.
Inspect the material
You'll want to ensure that the chew toy is made from a material that's safe and durable. Some toys are stuffed with polystyrene beads, while others are made from flimsy materials that shred or break easily. 
On the topic of materials, you'll find that many chew toys are made from rawhide or other animal parts. These include pig ears, beef ears, pig trotters, jerky, and other animal-based products. The jury is still out as to whether rawhide is good or bad for dogs. 
Some argue that the coating on some of these products can cause digestive upsets. Others believe it's too easy for dogs to choke on bits of rawhide. Then, some say it's perfectly safe for many dogs. If you're unsure, you can ask your vet for advice on whether rawhide is suitable for your doggo.
Evaluate its durability
While durability certainly applies to the toy's material and quality, it's also very much relevant to how much enjoyment your dog will get from it. A good chew toy shouldn't get boring quickly. Instead, it should entertain your pupper for hours. 
If your dog is food motivated, you might want to pick a toy that allows you to stuff treats inside it. If they love nothing more than interactive play, a rope could be a good idea. Rope toys allow them to chew and engage in a friendly tug-of-war at the same time. And if your doggo is a gentle chewer with a tender and loving side, a chewable soft toy that they can slowly nibble on could just be the perfect pick.
Comments
comments