Is it an Alaskan malamute? Is it a Siberian husky? It's super… hard to tell! Malamutes and huskies are both working dog breeds that look very similar at first glance. They also share a lot of the same qualities. But, in many ways, they're quite distinct. Thinking of adding a giant, loveable, and utterly adorable furbaby to your family? We've put together some of the key similarities and differences in the battle between malamute vs husky.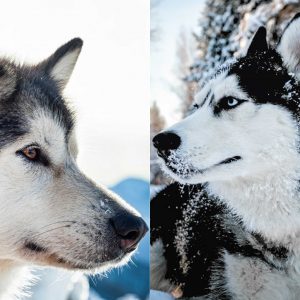 Where do malamutes and huskies come from?
We thought we'd start with a brief history lesson to find out how these dog breeds evolved. You can probably already tell from their names that they're both cold-climate breeds. However, their origins are poles apart.
Alaskan malamutes are believed to be a basal breed. This means they existed a heck of a long time ago and helped create the dog breeds we know and love today. The name "malamute" comes from an Inuit tribe called the Mahlemuts, who lived in Northern Alaska. They used malamutes for their ability to hunt and drag big loads. These dogs weren't fast, but they were incredibly strong. 
Siberian huskies come from a different corner of the world – namely, eastern Siberia. They were employed by the Chukchi tribe, who used them to pull sleds, hunt prey, and round up livestock. The Chukchis valued huskies for their speed and ability to endure very long distances, even in harsh, snowy weather. It's also thought that because huskies mostly lived with families, they've since developed a very soft, sociable nature. 
To make things a little more confusing, there's also a type of dog known as an Alaskan husky. This guy isn't a breed, though; instead, Alaskan huskies are a mix of breeds, including Siberian husky, Inuit husky, malamute, Eskimo dog, and German Shepherd. They look a little different from Siberian huskies and are mainly bred for their incredible racing abilities.
Malamute vs husky: how are they different?
While the two share multiple similarities, the differences between malamutes and huskies are where things get really interesting.
Appearance
There are a few obvious similarities when it comes to the appearance of malamutes and huskies. Because they were both bred in utterly freezing climates, each breed has a thick, luscious double coat, fluffy tail, and ample fur between its toes to help protect its feet from the cold.
However, look closely and you'll notice significant variations in their size, coats, and markings.
Size is probably the biggest difference between malamutes and huskies. Malamutes are big, sturdy chonkers – they were utilised for their strength, after all. Malamutes are often classified as a large to giant breed, and males can weigh up to 45 kilograms. They're also a bit taller than huskies.
Huskies are light-footed and slender, and generally more compact than malamutes. They're classified as a medium to large breed, and male huskies usually weigh up to 27 kilograms. Huskies may be smaller, but they're certainly mighty; their lithe bodies allow them to run at great speeds.
Eye colour is another major difference. Malamutes are mostly brown-eyed, while huskies can have blue, green, black, or brown eyes. You may have noticed huskies with different-coloured eyes, or even two colours in the same eye!
And while both breeds can have comparable colouring – right down to their white tummies – huskies tend to have more contrast between colours. Malamute coats are a little more subdued. 
Malamutes also have longer hair than huskies, which means they need daily brushing and regular baths. Huskies are a bit more low maintenance; you can probably get away with brushing them once a week and bathing them a few times a year. 
Lastly, malamutes have tails that arch over their back. By contrast, huskies have tails that point south.
Personality
On the whole, malamutes and huskies are absolutely wonderful dogs. They're friendly, social, gentle giants who make fantastic family pets. They're both whip smart when it comes to training, and will likely pick up tricks relatively quickly. However, being intelligent breeds, they can easily get bored if they don't receive enough mental stimulation.
Where each breed differs in personality is its attitude towards others.
Huskies love being part of a pack, particularly if that pack consists of other huskies. If you don't have multiple huskies living in your home, they're also more than happy hanging out with other pets or members of the family. Trust us: a husky will stay very loyal to your family, and will likely enjoy being close to you. Huskies don't love hanging out solo.
Malamutes, on the other hand, are sometimes better off as only furchildren. They can get a little grouchy around other dogs, particularly those of the same sex. This usually comes out as aloofness, but sometimes it may cause aggression. Malamutes are great with humans, though, and are very loyal to their Owners.
Malamute vs husky food preferences
Think all doggos are food motivated? Not huskies! This breed isn't particularly crazy about food or treats, and can actually get tired of food pretty easily. Huskies also have an excellent memory for food and will avoid something if they know it's made them ill in the past.
Malamutes love a good feed. They're highly food motivated and respond well to treats during training. While your malamute certainly won't have any issue polishing off their healthy dog food, you'll have to be careful leaving food out. In other words, don't be surprised if your just-roasted chicken mysteriously disappears from the bench when you're out of the room.
Fitness
Given their history as working dogs, it's only natural that malamutes and huskies need tonnes and tonnes (and tonnes and tonnes and tonnes) of exercise. They're both high-energy breeds that require around one to two hours of exercise per day.
Where they differ, though, is how their origins dictate the way they like to stay active. Huskies are born runners, so taking them for a jog, run, bikeride, or long round of fetch at the dog park is great for meeting their exercise needs. 
Malamutes are fantastic at enduring long distances. Lengthy jogs, runs or hikes are ideal, especially if there are hills involved. And because malamutes used to haul loads on their backs, a bit of resistance can be a good challenge for them. You could try using a weighted vest or doggy backpack to really test their strength.
Malamute vs husky health comparison
Huskies are renowned for being a healthy breed with risk of very few problems. The illnesses they're predisposed to are generally eye problems, such as cataracts, progressive retinal atrophy (gradual deterioration of the retina, which causes vision loss and sometimes blindness), and corneal dystrophy (diseases that affect the cornea and can lead to vision impairment).
The sad reality is that malamutes are prone to more health problems than huskies, and often live shorter lives. The number-one health condition among malamutes is hip dysplasia, but they're also at risk of elbow dysplasia, dwarfism, and other orthopedic diseases. 
They can also contract the same eye problems as huskies, as well as a condition known as "day blindness". This is where they struggle to see in bright light. Hypothyroidism is another condition that can affect malamutes.
Because both breeds have thick coats, be careful when exercising them in hot weather. Overdoing it can cause your doggo to overheat.
Malamute vs husky: what should I consider before welcoming one into my home?
Whether you opt for a malamute or husky, you'll be welcoming a wonderful pet into your family. However, there are a few considerations to make before committing to either dog:
They're best with lots of space.

If you're living in an apartment, your dog might not have enough space to run around in. Both breeds are relatively large and need a lot of exercise, so a big home with an enclosed yard is ideal. Apartment living is not impossible, though – it'll only mean you need to dedicate more time to exercising your pupper outside your home.

Both breeds require a lot of attention.

Between exercise, grooming, training, and mental stimulation, both dog breeds demand lots of attention and TLC. Work out if you've got the time, patience, and energy for a malamute or husky. Otherwise, consider engaging a

local Dog Walker

or

 

expert Dog Trainer

to help take some of the load off.

They may not be ideal for first-time Dog Owners.

Both malamutes and huskies generally require an experienced Dog Owner who can take on a firm leadership role. These doggos are no shrinking violets – instead, they respond well to confidence and directness.

They're terrible guard dogs.

Looking for a doggo who will keep watch at night? You might want to look elsewhere. Because malamutes and huskies are friendly and sociable dogs who quickly warm up to new people, they're pretty useless in the face of an intruder. If you're after a night watcher, you might want to look at other

dog breeds that make ideal guard dogs

.
Comments
comments