One half of a Pet Sitting duo, Susana cares for pets with her husband in their suburb of Joslin, SA. Among her many skills, it's Susana's status as a Dog Owner herself that gives her insight into the needs of her clients. As Mad Paws' October Pet Sitter of the Month, Susana shares her top tips for other Dog Minders. If you live in SA and need one of Adelaide's best Pet Sitters, check out Susana's profile! 

Why do you love being a Mad Paws Pet Sitter? 
When we go away we want to know our dog Chops is being looked after really well. That's why my husband and I offer Pet Sitting services through Mad Paws. We want people to know their dogs are cared for and are in safe hands. We also love meeting all the new dogs!
What's your favourite thing to do with your furry clients?

 
We love to get them to play in our big backyard and film videos of them playing for their Owners.
What was the first pet you ever owned? Do you have your own pets now?

 
Our first pet as a married couple were two gold fish called Sushi and Nemo. For seven years we have had our amazing mini long-haired Dachshund called Chops.
Do you have any particularly memorable furry guests?
A little Cavoodle puppy once arrived in the arms of her Owner and we said "where is the dog?" We said this because we thought the creature in her arms was a teddy bear. Super cute and tiny!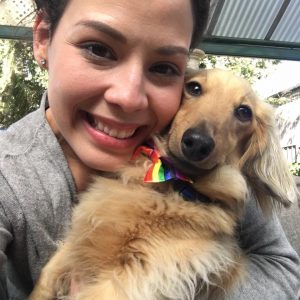 If your furry guests could talk, what one question would you ask them at a Meet & Greet? 
Where would you like to be rubbed or patted? What's your favourite spot? 
What's your one top tip for new Pet Sitters?
Distraction is the best thing for the few minutes after the Owner leaves. Lots of cuddles, backyard play, Dog Walks, and belly rubs will make all the difference!
Comments
comments