Figuring out how to choose the right dog for your home is one of the most exciting decisions you'll make! There are thousands of breeds to consider, doggos of different sizes, and the very important question – puppy, adult, or senior dog? Just like finding a great vet or a quality Pet Sitter, your choice of dog is crucial to providing a happy and healthy home for both of you.
Of course, the whole process can be a bit overwhelming. So, we've broken it down for our Dog Owners-to-be! You can use these four simple questions to start thinking about the kind of dog who would fit best in your home and your lifestyle. Then, you can do the fun part of meeting the doggos in person.
So, get ready to learn how to choose the right dog for you.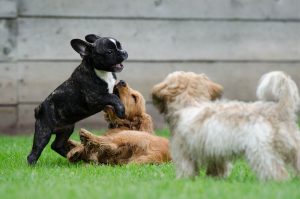 How to choose the right dog without the old assumptions
Before we really get into the dog-finding search, there are a few things to clear up. Here are a few doggie facts that could help you bring home the perfect pup for you:
Not all little dogs are lap dogs. We've seen little dogs climb mountains and hop on skateboards and do all sorts of amazing things that do not include curling up on their Owner's lap. Some people who think they want big dogs would actually be better suited with a little dog, and vice versa. Let go of the little dog equals lap dog stereotype, is what we're saying.
Not all big dogs need big spaces.There are some big dogs who are perfectly happy in an apartment or small home, and others who really do need those wide, open spaces. You can take a look at our article on the best dog breeds for apartment living to learn more about doggos who don't need too much room to roam.
All doggos need exercise. Big, small, young and old, all dogs need some form of exercise. That will look different for different dogs, but be careful not to assume that some dogs don't need playtime.
Where you get your dog matters. Getting a dog from puppy farms and backyard breeders increases the risk for health concerns and unpredictable personality traits. If you're going to adopt a purebred, make sure your new dog comes from a responsible breeder. Adoption is another wonderful option that will give you the chance to spend time getting to know a dog before bringing them home.
With these tidbits of knowledge, let's get to the doggie specific questions!
How to choose the right dog with four questions
Question One: Lap dog or independent dog?
If you're looking for a pup that will always jump right into your arms when you want a good cuddle, there are a few dog breeds that will be perfect for you. These doggos may not have been bred for cuddling, but they take it seriously, nonetheless. Some small breed cuddlers include the Cavalier King Charles Spaniel or British Bulldog. Bigger dog cuddlers include the Great Dane, and the Bernedoodle.
If you want a more independent dog that isn't going to be in your personal space all the time, there are plenty of loveable options. Some small independent dog breeds include the Jack Russell Terrier, Beagle, and Scottish Terrier. Bigger doggos with a mind of their own include the Akita and Greyhound.
Question Two: Active dog or couch potato?
Some dogs are constantly in need of exercise and stimulation. Others are happy to lay in that wonderful sunny spot on the back patio.
If you're active yourself and looking for some good trekking or jogging companions, you're in luck. There seem to be many more exercise-motivated doggos than not. For small options, check out the Papillon or the Moodle. For larger workout buddies, you might opt for Australian Kelpie or Dalmatian.
If you want to lounge around with your pup, there are some dogs who will gladly put up their feet and settle in. Of the small variety, you should take a look at the French Bulldog or the Maltese. Or, if you're looking for a large dog that won't be overly active, the Chow Chow or Tibetan Mastiff might just be perfect for you. Remember, of course, that all dogs do need some exercise, but these ones won't tear the house down if they get less than an hour or activity. On most days, they'd be happy with a leisurly stroll and maybe some games to exercise dogs indoors.
Question Three: Eager to learn or laid-back?
Some people love the idea of training their doggo to do amazing tricks. Others are looking for a reliable companion who will go with the flow.
If you're looking for the first option and are interested in a small dog breed, keep an eye out for a Cavoodle or Yorkshire Terrier. They'll love learning new tricks! Or, for a larger doggo, you might opt for a Border Collie or a Dobermann. These dogs never get tired of their training sessions.
If, on the other hand, you're looking for a calm dog who is happy to tag along for the ride, the small dog breeds you should consider would be Welsh Corgi or the Schnauzer. On the larger side, consider a Siberian Husky or Staffordshire Bull Terrier.
Now, that's not to say that these doggos don't need any training, but once they've got the basics, they'll be happy to hang out and enjoy the good doggo life.
Question Four: Young pup or old doggo?
This is a hard question, but absolutely crucial to figuring out how to choose the right dog.
Some of the advantages of having a young pup is that you can be in control of training from an early age. And, as long as your doggo is healthy and happy, you'll have more years to enjoy the special Owner-dog bond. Of course, having a puppy comes with the chores of potty training and some other puppy-related disasters like furniture chewing. You'll also need to give them more vigorous Dog Walks during their "teen" years. 
An adult dog is a great option for people who are looking for a dog with an established personality and none of the puppy responsibilities.
A senior pup is one that is often overlooked in shelters, but can be a wonderful companion for the right Owner. You may not get as many years with an older doggo, but they'll give you more love and gentle cuddles than you can bear. Older dogs also tend to be mild-mannered and calm, perfect for a quiet household.
How to choose the right dog for you
We gave you a whole lot of information on how to choose the right dog, and now it's up to you! Will you go for the couch potato? The brilliant trick-learner? The sweet old pup?
We'd love to hear updates on the kind of dog you're looking to adopt. Or, if you already have your fur baby at home, how did you choose them? Let us know!
Comments
comments