Have you decided to welcome a pupper into your family? Congrats! You're about to embark on a magical, exciting, life-changing, at times irksome, but ultimately rewarding journey. If you've chosen to find a purebred puppy through a breeder, you might want to get familiar with pedigree papers. 
From locating a certified breeder to understanding what pedigree papers are, we've put together some tips to make the rehoming process smooth and stress-free.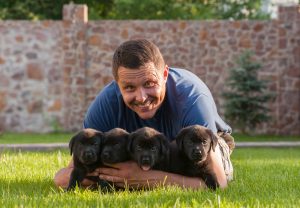 What is a certified breeder and why should you choose one?
When you purchase your new purebred puppy, naturally, you'll want to know they were born and raised in a healthy and happy environment. 
Sadly, some dogs are bred in inhumane conditions, where their living space is unclean or unsafe. Or, the mother is bred as frequently as possible simply to make money for the breeder. This can sometimes be the case with online listings or unregistered breeders, who are often known as "backyard breeders".
On the other hand, certified breeders are registered with a particular breed or breeder association, or with a local authority, such as a breeder register.
Certified or registered breeders prioritise the welfare of their dogs. They will breed the mother at intervals that are deemed safe and ethical, and try to breed healthy puppies with a good temperament. 
Certified breeders will also socialise their puppies and perform relevant tests and health checks before they go to their new home. Proper socialisation ensures your pupper is ready for the outside world. This is especially important if you plan to engage a friendly Dog Sitter or local Dog Walker to take care of them from time to time!
Certified breeders tend to be a lot more cautious about who takes their puppies, too. They're deeply invested in the long-term wellbeing of their litters and want to make sure they're going to a good home. If you're buying from a registered breeder, prepare to be given the third degree!
How to find a good dog breeder
When looking for a breeder, there are a few checks you can do to guarantee they're certified and are breeding ethically.
Check the breeder's registration number.

A registered breeder will always list their registration number with their puppy listings. You can check if the registration number is legitimate by searching the relevant breeder database in your state. Or, you can use the

Australian National Kennel Council

(ANKC) website.
Make sure the breeder is rehoming puppies properly.

Puppies should be rehomed from at least eight weeks of age and come with a bunch of important documents. These include their microchip information, registration certificate, vaccination and worming record, and pedigree papers, if applicable (more on that soon!).





The microchip number must be genuine if it's listed in an online advertisement. You can check its validity by searching your state's pet registry. If the number doesn't come up, it's a big red flag.
Ask if you can see where the puppies were bred

. If a breeder insists you meet in a public place or refuses to let you see where the puppies are living, it may be cause for concern. If you

do

get to visit the puppies at home, check that it's clean and that the puppies and mother are living in reasonable conditions. The dogs should also look healthy and in good spirits.
Ask lots of questions

. A good breeder will be happy to answer them, and should be very knowledgeable about the breed and litter. They'll be familiar with the positives and negatives of that breed and what to expect when your puppy grows into an adult. They're also likely to know the intricacies of the litter they're rehoming and which pupper will best suit your needs.
Check that the breeder provides ongoing support

. The process of welcoming a puppy into your home doesn't stop when you leave the breeder. Instead, a good breeder will provide continuous advice and assistance.





Also, if anything goes wrong with your new puppy (unlikely, but always a possibility), many registered breeders are prepared to take them back. After all, their priority is to ensure their puppies go to the very best forever homes.
What are pedigree papers?
When you pick up your new purebred puppy from a registered breeder, you should receive pedigree papers. These are sometimes known as "breeder papers" or a "pedigree certificate".
Certified purebred dog breeders often supply pedigree papers to guarantee the pedigree of their puppies. Think of these as your pupper's birth certificate. Pedigree papers need to include:
The puppy's breed

The puppy's microchip number

Basic details like the puppy's sex, colour, country of birth, and birthdate

Details of the puppy's parents, grandparents, and great grandparents

The breeder's name and registration number

The date the puppy was registered and the date the pedigree papers were issued
Pedigree papers are not issued by federal or state governments, local councils, or the RSPCA, but by a body like the ANKC. In fact, the ANKC is the only internationally recognised registry in Australia that can issue pedigree papers for purebred dogs.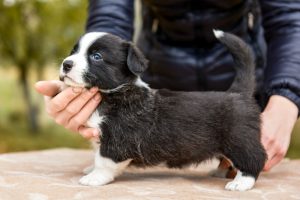 Why are pedigree papers important?
They guarantee your dog's pedigree
Pedigree papers are proof that your dog is purebred. Because they include details as far as three generations back, you can be sure that your doggo comes from a pure line of dogs.
Note that a pedigree dog and a purebred dog are not necessarily the same thing. A pedigree dog is simply a purebred dog with the papers to prove it. Also, mixed breeds like cavoodles and pugaliers don't come with pedigree papers. This is because they're born from multiple breeds.
They help reveal the character and health of your dog
By knowing your dog's pedigree, you can better prepare for the quirks, personality, and health conditions that come with a specific breed. 
Generally, certified breeders will breed their puppies so they have good temperaments and display certain behaviours that are true to that breed. This means you know what you're in for as your puppy grows up.
Many breeders who provide pedigree papers will have performed certain health checks on their puppies to test against certain conditions. These include cerebellar ataxia (a condition that affects balance and gait), cardiac problems, and hip and elbow issues. 
Knowing a dog's pedigree also ensures you're aware of health conditions particular to that breed. As a result, you can plan in advance and potentially take out comprehensive dog insurance to cover future health problems.
They allow you to register as a breeder or show your dog
If you want to breed purebred puppies or show your doggo at events, you'll need to produce certain pedigree papers. There are two types of pedigree papers issued by the ANKC that may or may not allow you to breed or show your dog. 
Blue papers mean your dog is registered on the Main Register. Dogs with blue pedigree papers can enter into events and participate in breeding. However, you may need to be a financial member of your state regulatory body, such as Dogs Victoria or Dogs NSW.
Yellow papers indicate that your dog is registered on the Limited Register. While they're still a pedigree dog, they won't be eligible for breeding or for certain shows.
They prove the breeder is legitimate and abides by certain codes of ethics
By issuing pedigree papers, a breeder is guaranteeing that they are members of a legitimate breeding body, such as the ANKC. The ANKC has certain obligations and ethical standards that breeders need to meet when breeding dogs. 
This means you can rest assured that your breeder breeds their puppies by stringent standards. As a result, your new pupper will have the best chance of growing into a happy, healthy doggo.
Comments
comments