Dog breeds with floppy ears are simply adorable. They're hilarious to watch when your dog runs around, they're fun to play with (if your doggo is onboard, of course), and in most cases, they're unbelievably soft.
So, consider this our ode to dog breeds with floppy ears. We'll talk about the fuzzy ones, the velvety ones, the short and long ones. And along the way, we'll throw in some floppy ear trivia and proper ear care tips so that you and your dedicated Pet Sitter can keep those magnificent ears healthy!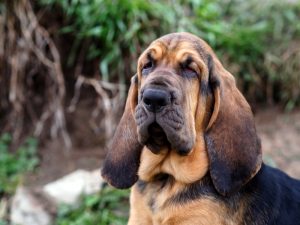 Dog breeds with floppy ears that are cute as a button
We're starting with ears that can't decide whether to be floppy or fox-like. These so-called button ear dogs have ears that are mostly erect, with cute little flaps at the top that fold over the ear canal.
As cute as those ears are, you might be tempted to underestimate the Jack Russell Terrier. But this is one brave and mighty pup! Originally bred to flush out everything from rodents to foxes twice their size, these muscular little dogs are always ready to prove themselves.
#9: Airedale Terrier
The largest of the terrier group, Airedale Terriers were bred to be much more than a rodent-flushing pup. With an affinity for water and the size to protect the family farm, these button eared dogs were a true working terrier. 
Fun fact: You'll see a lot of terriers with button ears. This may go back to their days as digging doggos who were bred to hunt rodents and other earth-dwelling animals. The erect ears aided with hearing, while the flap kept dirt and insects out of their ears when they were snout-first in the ground.
Dog breeds with floppy ears to envy
These luxuriously fluffy ears are sure to be the envy of the dog park. Take a look at the head-turning dogs that look a bit like Brad Pitt during his long hair phase in the 90s. 
If you're going to spend your days wagging your tail through King Charles' royal court, it makes sense that you would have a truly regal pair of ears.
The Cavalier King Charles Spaniel has wavy drop ears that were probably more fashionable than functional. This dog was bred to be a companion for the ruling class!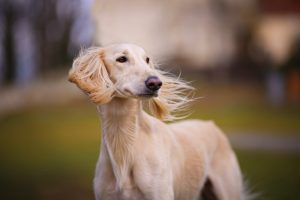 We couldn't think of a better dog to have a set of luxuriously long feathered ears. Why? Because those flowy locks look absolutely magnificent racing across the desert sands of this dog's homeland of the Middle East.
Salukis were built for speed, and they have an aerodynamic frame that allows them to reach speeds of up to 69km/h!
The V in "V-shaped ears" stands for very cute, probably
Okay, no. That's not true. V-shaped ears are so named because the floppy ears on these doggos are tapered at the end instead of rounded. This ear shape is very common; you'll see it on hunting dogs, guard dogs, and a range of other puppers. Here are just a few examples:
The Hungarian Vizsla may be known as a distinguished hunting dog. But, they're also some of the cuddliest puppers on the planet; it was even part of their original job description! If you ever get the privilege of snuggling up with a Vizsla, you'll also notice that they have some of the softest ears in the animal kingdom.
Here in Australia, ear cropping has long since gone out of practice. And that has meant that we've been able to enjoy the Dobermann in all their floppy-eared glory! Dobermanns have a pair of smooth, v-shaped drop ears that give this pupper a softer look. But don't be mistaken, they haven't given up their watchdog skills.
Dog breeds with floppy ears named after a tree
It's not actually dog breeds, but rather one single dog breed: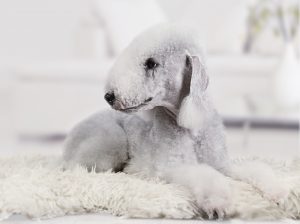 #4: The Bedlington Terrier

 
This dog's floppy ears are called Filbert ears, after the filbert tree. Their unique ears are v-shaped and velvety, with a peculiar puff of fluff on the end. If you've ever seen a filbert nut, a.k.a a hazelnut, you'd understand where this floppy ear got its name!
The longest doggy ears in the game
The moment we've all been waiting for. Dog breeds with floppy ears that are so long, they're practically safety hazards. 
You'll notice that all of the dogs in this category are scent hounds. That's because those long drop ears, also called folded ears, aren't just cute. They also allow these puppers to pick up scent molecules while on the trail! The extra folds give them more surface area to trap smells that they can use as a reference as they follow along their path.
If you have a scent hound, it's a good idea to give them plenty of opportunities to satisfy their smelling drive. A friendly Dog Walker can take them on a fun, exciting tracking session—a.k.a. walk—through the neighbourhood! 
Originally bred for fox and rabbit hunting, the Beagle is a scenthound to the core. They have a distinctive hound howl that they love to show off, and they're not afraid to dig up the backyard in pursuit of an interesting smell! Even so, Beagles are one of the most popular companion pets in the world, all thanks to their enjoyable personalities.
#2: Basset Hound
Basset Hounds kind of look like elongated Beagles with even larger ears. Originating in France and Belgium, Basset comes from the French word "bas" for low. And, while they may no longer work as rabbit flushing dogs,  this low-riding scenthound is perfectly adapted to keep their nose to the ground. There's only one dog in the world with a stronger nose than the Basset Hound.
Not only is the Bloodhound the world's strongest smeller, but they also top the charts for dog breeds with floppy ears!
The longest dog ear on record is held by a Bloodhound by the name of Tigger. Tigger won the award in 2004, and his ears measured in at an astonishing 34.9cm (right) and 34.2cm (left.)
These long-legged scent hounds share a common ancestor with the Basset Hound, and were originally bred to track large game. Bloodhounds have been used for search & rescue and a range of other jobs for generations. 
Fun fact: scent hound puppies often trip over their own floppy ears! Don't worry, they'll eventually grow into those ears and learn how to wiggle through life without getting tangled up.
How to care for dog breeds with floppy ears
If your dog has floppy ears, you might be wondering how to properly care for them! Here are a few tips:
Get them on a high quality diet for maximum velvety-ness.

If you want your dog's coat, and especially their ears, to be soft, shiny, and healthy, make sure they get an

all-natural, nutritious diet with Omega-3s

.
Fun fact: Dogs with long ears sometimes wear a snood while eating to keep their fluff out of their food bowl!
Be aware of parasites who love floppy ears even more than we do.

Ticks and fleas love hitching a ride on dogs with floppy ears. So, make sure that your pup is up-to-date on their parasite prevention medication and check their ears after they've gone bouncing through a meadow.
Dry them out after water play.

Floppy ears don't allow for a lot of air flow in the ear canal, which can put them at higher risk for ear infections. After a dip in the lake or a day at the beach, clean out those ears and make sure they have a chance to dry.
Find a

pet insurance plan

that can help you deal with any floppy ear maladies.

As much as we love dog breeds with floppy ears, they sometimes need to be cared for by a vet. Make sure your pupper is on a reliable plan so that they can enjoy floppy-eared life to the fullest.
Does your dog have floppy ears?
What kind of drop ears does your dog sport? Do you think your dog has the softest floppy ears in the world? We'd love to hear whether your pupper made the list of dog breeds with floppy ears!
Comments
comments