Have you ever found yourself Pet Sitting an energetic dog breed? If so, you'll know that matching their energy levels can be a challenge. Luckily, expert Sydney Dog Minder Odette McCarthy has the insights you need to keep your feisty furbaby in fine fettle. Need a Dog Minder like Odette? We have A1 Pet Sitters in Toowoomba, Perth, Alice Springs, and all over the country!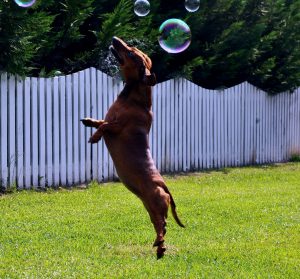 When Pet Sitting an energetic dog, be conscientious when considering their breed. If dealing with a high-octane pedigree, you may need to know a thing or six. After all, some breeds have innate intelligence and a desire to work. Think German Shepherds, Huskies, Border Collies, Kelpies, and other sheep dogs. Think police partners, sleighing hounds, working wolves, and dog-boys in replacement of cowboys!
The energy is inherent in these long lines of lively learners whom are hell-bent on getting the job done. For this reason, such a doggo may bore easily. If they don't receive the stimulation they need, they may bark incessantly, herd people, dig up the yard, or spread their Owner's new feather cushions across the floorboards. To counter this, you'll need to summon an animated energy to match their output. Here are some top dog tips for when you're Pet Sitting an energetic dog!
When Pet Sitting an energetic dog, learn the doggo's daily routine
Daily entertainment is essential to tire an energetic dog, but sticking to their routine will settle them the fastest. Daily energy exertion, play, and tricks will only get you so far. Every Snuffle Puff should have a "calm down routine" at the same time every evening. This will decrease doggo excitement as they often shadow your movements and feelings. Decrease noise, opt for a soothing tone of voice, and limit excess activity. An early dinner, some company while laying by the TV, and a warm bed to climb into will make all the difference. Ensure their bed is soft and inviting and always remains in the same spot – possibly close to your own bed. Lastly, ensure a snuggly blanket and a couple of their favourite toys lay gently inside it, mirroring the comforts and smells of home slumber.
A Chihuahua I mind on a regular basis dozes off when I rub his tummy or stoke his head. Most dogs tend to begin to close their eyes upon a decent, loving stroke. Maybe the Mister or Mrs you are minding will love it too!
Puplets in need of extra outlets
Dogs with high energy levels crave high-intensity workouts. There are plenty of ways to wear out your woofer – Dog Walks included. Keep things unpredictable with long-distance hiking, swimming, or throwing a toy into water in a game of 'Discover The Dampened Dolly', or 'Wet Fetch'. Or, why not try your luck by entering your bestie in a dog show? My sister's Kelpie, Ruby, has been in a few shows; completely perchance, won 1st Place in agility and height jumping against previous Best-In-Show badge bearers.
Enhance their intellectual abilities
want to exhaust a peppy pooch? Stimulate their mind! I am surprised at how obedient most dogs become after the use of a clicker. Clickers mentally trigger a dog's reward system, meaning they'll know they'll receive a treat if they act upon the click. The click is low-volume, yet captivating for a canine, used to entertain and teach new behaviours. Sound association can assist a dog and even calm mischievous behaviour. I used to use a loud click mechanism for my dear departed doggo, who would obsessively and incessantly bark at the back fence. Nothing got her running upstairs quicker (or at all, for that matter), not even the clinking dinner being spooned into her tin food bowl.
Home Alone-style apps will help when Pet Sitting an energetic dog
a) Techno apps – When leaving your vivacious doggo for the day, consider a novel techno-toy for Fido to spot, sniff, and snuffle! There are a range of different tech toys you can use; in my case, I depend on the Furbo! This two-way Pet Camera livestreams your dog to your phone, plus alerts you to unwarranted barking. Two-way audio means you can communicate with and pacify your perturbed pooch. My favourite Furbo Function is Toss-The-Treat. Fill Furbo with your pup's favourite foods and use your phone to tap and treat them. A similar intelligent techno-toy is the Petcube, which incorporates a laser pointer. With the Petcube, your overactive mutt will receive entertainment from a light you handle from your mobile. But beware – this can become more addictive than Candy Crush!       
b) Interactive toys – Interactive treat-seeking shuffle toys, also known as Dog IQ puzzles, exist to stimulate a dog's mental and cognitive training abilities. The tricky compartments dispense treats once your pooch solves a puzzle; in other words, they need to figure the deal for his meal! Plus, a difficult and effort-exerting version of the Kong is Bob-A-Lot, wobbling at an adjustable difficulty level.                                                                                                                             
c) Alternative toys – Toys that involve a sense of mischief and mystery are amusing for a dog! Stuffing bags with their favourite treats, or sneaking an empty milk container from the recycling bin to chew and chomp, are two simple DIY options.
My sister's dog, Ruby, is lucky that her parents owns a farm, as she comes from a line of working breed Kelpies. She is let out of the ute to run the acreage and round up the sheep for her own amusement, tiring herself out tremendously (for the next little while). But rest assured, there are other ways to fatigue Fido! Dog parks are a good way to exhaust your Fido Fuzzball, being full of flea-baggy friends. Your shaggy shadow can go discovering somewhere new and exciting, hang around with other canines, be fatigued by other Mad Paws Minders, activate their intellectual abilities with learning and toys (including technical and interactive toys), and always sticking to a wind-down routine.
So what the mutt are you waiting for? Get to tiring out that high-energy dog!
Comments
comments