If you're ever in need of an instant mood-boost, the top instagram dogs will make your day. Without a doubt, these pupfluencers will be the most photogenic, loveable, goofy, and happy puppers to grace your feed. For your daily dose of cuteness, make sure you follow them and share the love. And if you feel inspired, why not ask your local Pet Sitter to snap some 'gram-worthy photos of your pup?
Top Instagram dogs from around the world
Jiffpom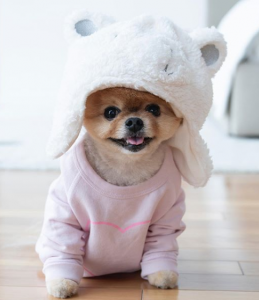 Jiffpom, or Jiff as he's known to his loving Owners, is arguably the most successful Pomeranian the world has ever seen. After making his debut in a Katy Perry music video in 2014 and moving to Los Angeles to act full time, this fluffy pup has only been gaining Instagram followers ever since. He's up to 9.8 million!
Jiff isn't just famous for his good looks. He's also a Guinness World Record holder for the fastest dog on two legs. This poofy pup practices every day, so if you think your dog has what it takes to break the record, they'll have to put in work!
Marutaro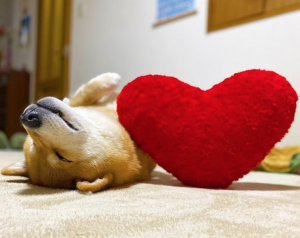 Maru is known as one of the happiest, friendliest, feel-good doggos on the internet. Not only is he one of the top Instagram dogs in terms of followers (2.5 million), but he also has a successful acting career in his home country of Japan.
If you follow Maru, you'll never run out of Shiba Inu smiles. And, you'll see him regularly make friends with other animals, from goats to horses, during his trips outside of the city.
Henry the Colorado Dog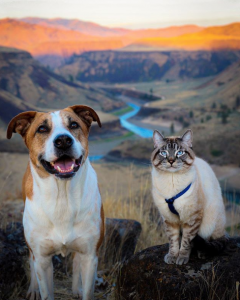 When Henry's loving Owners started snapping pictures of their pup Henry in the Rocky Mountains in the United States, they felt like there was something missing. So, they adopted a kitten named Baloo and made the adventurous family complete.
These furry friends travel all over the United States together, scaling mountains, swimming in lakes, and snuggling up in their camping tents. If you're looking for some of the best nature photography featuring the most adorable cat and dog best friend story, join 1.7 million others in following this account. And for more amazing animal BFF content, check our our recent article, Does My Dog Have a Best Friend?
Reagandoodle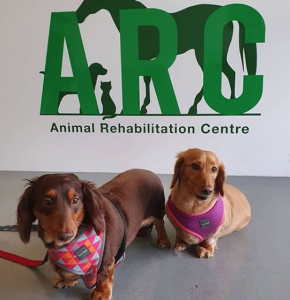 This Australian Labradoodle and toddler best friend are taking Instagram by storm with their cuddle sessions, creative photoshoots (complete with matching outfits), and outdoor adventures. Every picture on this IG account looks like it could be on a calendar, and you'll definitely be jealous of the friendship between Reagan and his Little Buddy.
We're wondering if Reagan and Little Buddy would consider adding a few more friends to the mix. We, and Reagans over 500,000 followers, would love to join the fun!
If you want your pup to be as great with children as Reagan, learn these 5 Tips For Introducing Dogs to Babies.
Our hometown hero top instagram dogs
The American (and Japanese) IG accounts may be raking in followers by the millions, but here in Australia, we've got our own top instagram dogs to enjoy! If you're not following these fluffy friends, make sure to take a moment to boost their follower numbers!
Doxies Down Under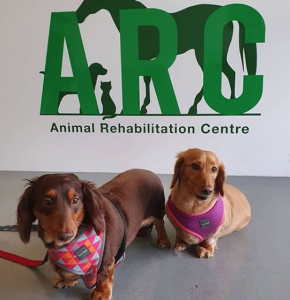 Fella and Tidda are two cute-as-can-be Dachshunds living in Auburn, VIC with 25k followers. Fella has had some pretty serious medical issues and an extensive recovery journey, and Tidda has been right there by her side to support and encourage her. It's a friendship that will make you call up your bestie and tell them how much you love them. 
Margaret the Iggy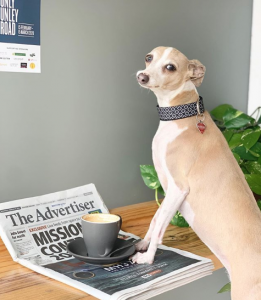 If you are worried about how you might feel seeing an impossibly fashionable and sassy Italian Greyhound in your IG feed everyday, then you are probably not ready for Margaret. This fashion-forward, fierce pupfluencer is serving looks and meme-worthy side eye that will have you laughing and wondering if you should freshen up your wardrobe.
Margaret lives in Adelaide, where she constantly has to remind onlookers (and her 87k followers) that no, she's not a Whippet and that yes, she really is this fabulous. Her one goal is to be awarded keys to the city someday. 
Lady Fi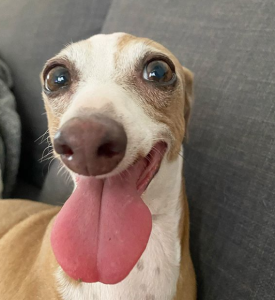 Wait, another Italian Greyhound living in Adelaide? What can we say – Instagram loves an Iggy! This sweetie will melt your heart with her shy looks and a tongue that just won't stay in her mouth. She has two signature looks: tongue out the side, or coy smile that just barely covers her adorable bottom teeth. You'll follow for the cuteness and you'll stay for the sassy captions. Lady Fi has 75,000 followers. 
Scout and Iggy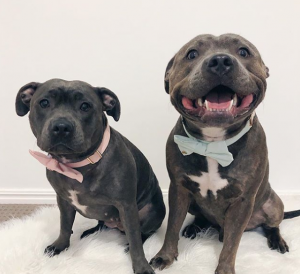 With 13,000 followers, these Gold Coast-based puppers are two of most successful top instagram dogs to come out of Australia. Beyond that, they're also some of the cuddliest! Although a year apart in age, Scout and Iggy share the same beautiful mum. This might explain why Scout fell into the role of loving older sister from the start. If you love Staffordshire Bull Terriers, Scout and Iggy will give you your daily dose of cuteness.
For your daily dose of new top instagram dogs
If you're like us, you're probably always looking for more doggy accounts to fill up your Instagram feed. With that in mind, we'll leave you with a few accounts that may showcase the next top Instagram dogs.
We Rate Dogs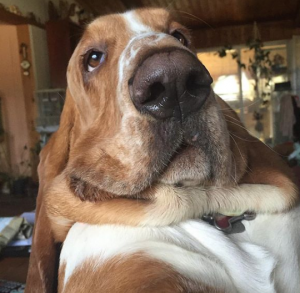 This account may sound like a mean-spirited rating system for one of the world's best creatures, but don't worry. The adorable doggos on this IG account never receive less than 10/10, and for good reason! They're all good dogs. Plus, every Friday, you can join in on a fundraising campaign for a pupper in need.
Mad Paws!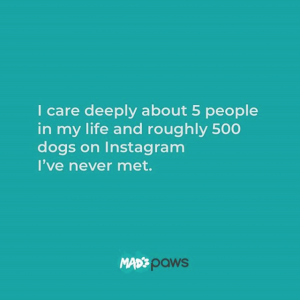 If you haven't checked out our Instagram account, get ready for a dose of the best doggos in Australia! Via our account, we share the most loveable top Instagram dogs. 
Who are your favourite Instagram dogs? Let us know in the comments section! 
Comments
comments