Ace writer and Sydney local Pet Sitter Odette McCarthy joins us once again! This time, she's here explore a crucial choice for pet service pros: Pet Sitting vs Pet Hosting. If you're not sure which you should offer, read on! If you're a Pet Owner who needs a Pet Sitter in Newcastle, Ballarat, Bendigo, or somewhere else that Odette can't reach, we can help with that too!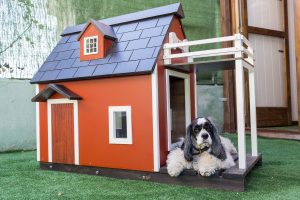 I continue to notice distinct differences between caring for canines at their own home and minding the mutts at my house. Indeed, they display 'out-of-character' behaviour when away from mummy or daddy, which heightens when also away from their abode. While separation anxiety is a potential concern, fear could emerge in any creature when staying in an unfamiliar space.
Pet Sitting vs Pet Hosting: Which Causes Out of Character Conduct?
Envision a child, entirely reliant upon their parents. Now, imagine that child suddenly left without them. What a terrifying occurrence to be at their own house with a strange adult – let alone a strange adult in a strange abode! How discombobulating, slotting into a stranger's world.
Comparatively, as a child, I found the experience of going anywhere without my mother intolerable, uncomfortable, and out of place. I clearly recall these feelings dampening when within the confines of my own home (due to familiar surroundings and routines).
My responses are comparable to doggo reactions. When left at pre-school, I threw tantrums, screaming and crying. If left at home, I felt a dozen Chihuahuas trembling inside my stomach. Unable to settle or concentrate, separation anxiety caused a great deal of distress. Likewise, animal anxiety appears to excel when away from the comforts of home.
Human or hounds can cry and howl in a bid to get their needs met. Homely comforts, such as toys, blankets or their own bed, can help immensely. The comforts of their own household can be heartening for a hound. How reassuring to have the familiar surroundings and smells of loved ones in a time of utter confusion.  
Danger Signals
As a Pet Owner, it is distressing enough leaving a furry little face wondering why you are leaving. Dropping them to stay at a strange place could feel like an everlasting abandonment- utterly and unbearably lonely and frightening. Gut instinct shouts "DANGER", thus the response is fight/flight/freeze. This can arise through such behaviours as:
Attempts to escape the Sitter's house (and run home)
Destruction of the sitter's property (in a desperate attempt to be punished and sent home)
Trembling or hiding in fear of the apparently awful, unknown stranger
Uncharacteristic evacuation (poo, wee, vomit)
Unaccustomed Alterations Affect Animals 
Your lifestyle and schedule will impact doggo – more so if they need to settle into a new abode. Anxiety can arise from:
Attempts to adapt to your schedule
Attempts to conform to the new customs within your household
Treatment and speech towards that differs from those of their Owner
Continuing canine concerns including the fear of rejection from you. Even leaving for work or arriving home late can make for an anxious dog. As a result, they may make frantic attempts to keep Sitter close, such as crying, clinging, and blocking doorways.
Unique Canine Considerations when Weighing Pet Sitting vs Pet Hosting
All unique features of our furry friends affect their ability to settle into a changed environment. Whether sitting or hosting, one must consider:
The Wonted Wolfie Way – every Inu has a unique identity, which is illustrated through their individual pupper particularities, poise, and personality
Age – shaggy senior citizens have had years to settle into in their own shelter. Therefore, they will find it more difficult to become accustomed to a new environment or a new master
Don't Dis their Abilities – A blind bow-wow would not prosper if placed outside her permanent pad. After all, they have no seeing eye doggo for assistance, only their established impressions of the world. As such, they rely on the routine of their doggy domicile, and they trust the knowledge of their surroundings.
Petrified, Pernicious, Panicky, Perturbed Pups
I have come to understand out-of-the-ordinary behaviours to be attention seeking or distractions from a dog's distressing desertion. Dealing with such behaviours must not be approached in a harsh manner – hounds herald no harm! I have approached adverse canine conduct with the following fundamentals for quality time with doggo: lying together, walking and exploring, scratching, playing, reassuring chat such as "You'll be seeing daddy soon!" or "Don't worry, that was just my mum dropping a pot, no need to be scared!"
Maintenance of the Manor as well as the Menagerie
A minder minding a mutt within the realms of the pet's own mutty mansion can also maintain the ménage. Contemplate this cake for the brain… Not only will pup be within the comforting confines of his own home, but puppy's parent's will also have someone to maintain the entire household while they're away. They needn't worry about their garden getting dehydrated, an overflowing mailbox, stinky bins sitting unemptied for weeks, or the eradication of everyday doggy dirt around their dwelling.
No matter whether you choose Sitting or Hosting, a pet may always feel out of their comfort zone at first. There will either be a few changes for pup to adapt to within their own home, or they'll need to adjust to a new space. To counter this, a decent Sitter will adhere to dog's routine. It can also slake a pup's stress to maintain their standard Dog Walking routine and route. By doing so, they can make the transition easier for pupper and for themselves. The end result will be a happy, content pooch!
Comments
comments