Having a kitten as a new part of your family is always exciting. Imagine all the cuteness and fluffiness and innocence that are bound to come your way! However, trying to raise a kitten isn't entirely fun and games. There's the challenge of raising them into a happy and well-trained cat, giving the right amount of nutrition, developing their social skills, and training them on proper behaviour.
Things are easier when you have the mumma cat by your side. In this case, the only thing you need to do is keep your home kitten-safe and help the mother give the right nutritious foods for them. However, if you've rescued or adopted a kitten, you should give them double the care, guidance, and attention!
Whether you have a new litter of kittens at home, or you've rescued/adopted one, this guide will walk you through the things you need to know as a kitten parent – from what to expect from your kitten during their younger years, to proper feeding, to proper kitten training.
The behavioural development of kittens
The first six weeks of kitten's life are the most delicate ones. During the first week, their eyes and ear canals are still shut tight, and their bodies are fragile and vulnerable. The mother cat can be a little overprotective of her young ones, so be wary when approaching them. If she feels you're being intrusive, she'll move her kittens to another location.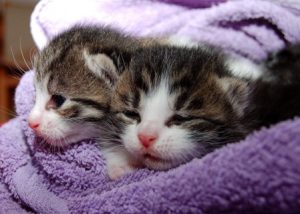 At four weeks old, kittens will start to navigate their surroundings with their wobbly tiny feet. Expect some little furballs to approach your feet from time to time, but don't surprise them too much! They're still learning to build their trust with you, after all.
Once your kitten reaches eight to 14 weeks, you need to supervise them more. Expect them to become playful, energetic and more curious with their environment. You can see them engaging in different kinds of fun, like playing with other kittens and cat toys, or chasing their tails. They're delightful and sociable at this stage, but this is also the time where you need to keep them extra safe.
At two to six months old, their energy become triple the energy of an adult cat. During this stage, you should expect more play times, socialising, and a few broken things in your home. They also start to recognise the concept of dominance and social status, including recognising you as their "master hooman".
When they reach six to 18 months, their sex hormones begin to ignite. At this point, you can expect them to interact more with kittens of the opposite gender!
Proper feeding Of your kittens
The mother cat takes care of feeding her kittens during their first four weeks. However, if you're rescuing a kitten that's been separated from its mother at birth, you'll have to bottle feed them. Make sure to visit your vet to ensure you have the right milk to feed to your kitten.
If you're rescuing a one-week-old kitten, you'll need to bottle feed them every three hours (two if they're sick). No solid foods yet! Don't feed cow's milk too to avoid diarrhoea.
When they reach three-to-four weeks old, you can start feeding them with milk replacers and start weaning with wet, easy-to-digest foods.
At five weeks onwards, you can introduce more solid foods to your kitten. There are canned foods specially made for kittens available at pet stores, but you can also introduce them to the same food you're feeding to their mother. Expect some mess during their first eating experience too.
During the following weeks, they'll start getting used to dry foods as their main diet.
The important thing here is that kittens require nutrition that support their high energy. Your chosen cat food should contain at least 30% protein and should be formulated especially for kittens.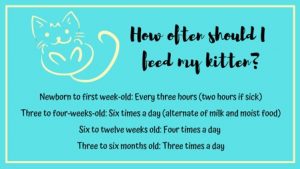 Potty training your kitten
You may notice your kitten sniffing around or looking like they need to do their business. If so, you can help them get accustomed to a litter box by bringing it to them yourself. Show them the litter box, put them there after meals, and reward them when they use the litter box.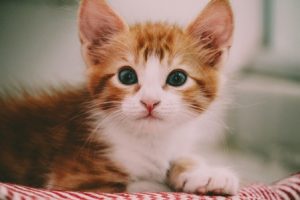 If your kitten doesn't get used to the litter box, make adjustments. Lower the sides of the box to make it easier for them to enter, or move it somewhere more private. You can also try changing the type of litter.
If your kitten still doesn't use their litter box more often, you should bring them to a vet to see if they have a urinary tract infection.
Some points to remember with your kitten's litter box:
Place the litter box somewhere quiet and with less distraction, and away from her bed.
Empty the tray regularly.
Don't use disinfectants or bleach when cleaning the litter box. Hot water and detergent are enough. 
This almost goes without saying, but litter training is a crucial step in your kitten's growth. It's hard to raise a kitten if they can't cleanly relieve themselves!
Teaching kittens socialising and proper behaviour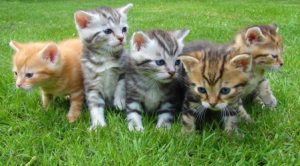 Positive rewarding is the key to training your cat to behave properly. Make a mental list of the behaviours and actions you want your cat to learn, then reward them whenever you see them doing those acts/behaviours. Your kitten will soon get the idea that if they keep doing those particular actions, they'll be rewarded! 
It's also natural for kittens to scratch everywhere. However, if you want to keep your furniture intact, give them a scratching post to use and reward them every time they use it. Likewise, don't encourage them  to bite or scratch while they're playing with you. If they do, redirect their attention somewhere else, for example by giving them a toy to play with. 
It's also recommended to help them get familiar with everyone and everything around them. This will develop their social skills, and will be key in your efforts to raise a kitten. A great way to start is by introducing them to your family and other friends. From there, you can proceed to taking them on a short walk around your garden/front yard, Guide them to get accustomed to the world around them so they'll be a sociable cat in the future! 
Whatever you're training or teaching them to do something, just remember NOT to reprimand them for bad behaviour. Ignore them instead, and when they do something good, reward them with a treat or praise!
Five final tips to raise a kitten well
Working to raise a kitten is challenging, especially if this your first time taking care of a pet. Nonetheless, here are five tips to make sure your kitten grows into a healthy and happy cat!
#1:

Interact with your kitten as soon as possible
Studies have shown that kittens who meet humans at an early age feel comfortable interacting with them when they become adults. Handling them each day during their first months will prompt them to open up to humans.
But remember:
#2:

Give your kitten their own time and space to explore 
Kittens tend to be shy to human contact at first. If you want them to be comfortable with you, though, you need to allow them the time and space to figure it out on their own. You can try occasionally stroking them, but don't overdo the snuggling and petting. Let them come to you.
#3:

Don't overprotect
Loud noises, movements, and new surroundings can scare your kitten at first. Even so, you need to introduce them to these kinds of distraction so they'll grow familiar with them.
#4:

Visit the vet frequently
Going to the vet is not only for situations in which your kitten gets sick or suffers an accident. In fact, vet visits can help you ensure you give the right nutrition and care for your kitten and cure early symptoms of medical conditions.
#5:

Make your home kitten-proof
Keep everything that could harm your kitten out of their reach. This includes electrical cords, yarn, poisonous plants, and chemicals like detergent and bleach.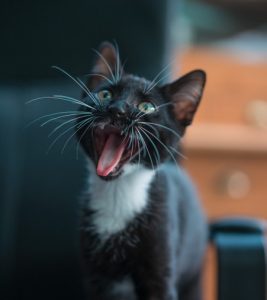 A happy kitten grows into a healthy and well-trained cat
All of these tips are here to help you when you set out to raise a kitten. In the end, though, you should still show unconditional love and 100% commitment. How your kitten grows into a cat, whether a well-trained or overactive one, depends on how you raise and care for them.
As a final tip, always remember: don't feel pressured. If you're unsure whether you're doing the right thing for your kitten, it never hurts to do your research. Ask friends, family, and other Cat Owners online for do's and don'ts!
Catherine Sullivan is an avid cat lover and owns a lovely ragdoll named Mimi. She shares her experiences as a cat owner on her personal blog, Cats.How.
Comments
comments