In Cat Breed Corner this month is the Ragdoll! Check out the Ragdoll's stats, personality, health, grooming and more!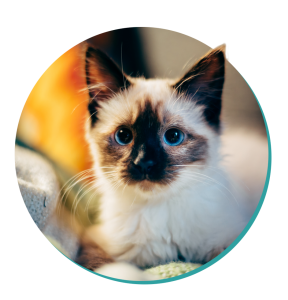 Quick Facts
Weight: 4.5 – 9kg
Life Span: 14 Years
Best for:
Families with children
Families with dogs
Families with other cats
Personality Traits & Trainability

 

★
Compared to other breeds, the Ragdoll is relatively new, with the first litter thought to come from California in the 1960s. Ragdolls are the perfect family breed, affectionately named for their habit of going limp when picked up and cuddled, much like a child's rag doll. If you're looking for a lap cat who will always be happy to snuggle, look no further than this affectionate breed; Ragdolls are known to run to meet you at the door, sleep with you and generally want to be wherever you are. This breed has been known to learn to fetch and come when called, much like their canine companions and your Ragdoll will be keen to play but is gentle and will generally keep claws away, making them a great cat for a family.
Grooming

 

✄

Ragdolls come in many different coat types and colour combinations and so can require different levels of grooming requirements. Most coats tend to be semi-long and so will generally require daily grooming to avoid matting.

 Health

 

+

Ragdolls are at increased risk of Hypertrophic Cardiomyopathy, a form of heart disease that is inherited in Ragdolls. A DNA test is available to identify cats that carry one of the mutations that causes the disease. In addition, they are also at increased risk for bladder stones and have a predisposition to FIP (feline infectious peritonitis)
Fun Fact

♥
Ragdolls are all born with blue eyes but some will deepen as the cat grows older and turn blue-green or even gold!
Comments
comments