In case you didn't know, Take Your Dog to Work Day is a pretty big deal for us. Last year, we set a high bar for ourselves by hosting 13 pooches in our office. So when Take Your Dog to Work Day 2019 rolled around on 21 June, what do you think we did? That's right…we hosted 14 dogs. As our office doubles as a Doggy Daycare space, we were able to recruit some of our daycare regulars. Our entire office building, WOTSO, also functions as a dog-friendly workspace, so some of our neighbours like Spacer also brought their furry friends for a playdate. To top it off, Pawssum, Mad Paws' vet partner, visited with four of their rescue dogs!
Beyond that, we also took several on a lunchtime walk to visit our friends at Nine Honey around the corner. While we can't say we completed much work, we can attest that we reduced stress for canines and co-workers alike. 
In the past, we've written at length about the benefits of dogs in the workplace. However, as they say, a picture is worth a thousand words. With that in mind, here is our Take Your Dog to Work Day 2019 in pictures. Without a doubt, it was our furriest, zaniest, and barkingest day yet!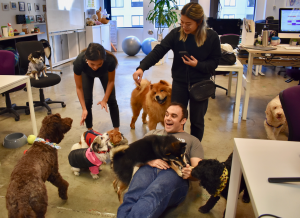 "Take Your Dog to Work Day" was less about "work" and more about "dog"
To the surprise of no-one, the dogs swarmed over Mad Paws staff and friends within moments of arriving. Hoping to get some work done today? Forget it – the space belongs to the dogs now. Our clothes are now covered with hair and slobber, but we don't care: it was all kinds of perfect.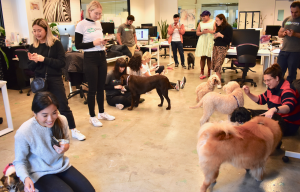 The dogs came to control the computers…
After 10 minutes, we needed to concede that we couldn't use our PCs without the consent of the dogs. In fact, all desks fell under the control of the canines. If anyone had emails to send, it was "Sent from my iPhone" or nothing.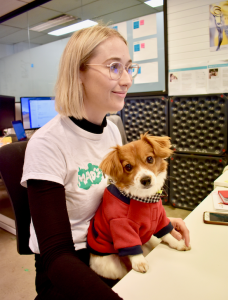 …but they took their "Take Your Dog to Work Day" duties seriously
By around lunch time, the pups realised that we humans had important work to do. In their infinite kindness, they granted us access to our PCs – provided they could micromanage us.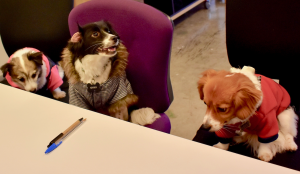 Some of them even took the liberty of working autonomously. This kind of go-getter approach will take them straight to the C-suite!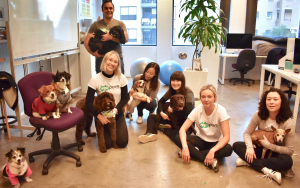 In short, we wish that EVERY day was Take Your Dog to Work Day
We say this every year, but we're already looking forward to the next TYDTW Day. Having said that, we COULD just bring 14 dogs into the office every day. The dogs win, the humans win – what's not to love?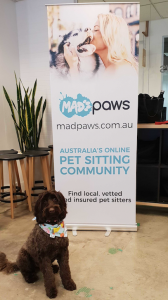 Would you like your pooch to enjoy TYDTW Day every day, but don't have a dog-friendly workplace? Book them a spot at Doggy Daycare! From Melbourne to Brisbane, from Sydney to Perth, we have A1 Pet Sitters ready to daycare your furry friend. Book now! 
Comments
comments