Name: Thomas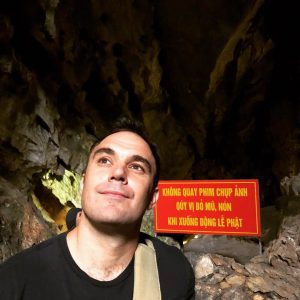 Job Title: Marketing Manager – Content, Social Media, and PR (so, the guy who runs this blog)
Pets: Tiberius, a Silverback Gorilla 
What were you doing before Mad Paws? 
You know, I was juggling a few commitments. While I was "officially" fighting La Cosa Nostra in the hills of Sicily, I was also developing a cure for cancer derived from the photosynthesis of seagrass.
However, when Mad Paws called, I needed to answer. After putting my Nobel prizes into storage and voiding my modelling contract with Hugo Boss, I boarded a plane for Sydney. One year later, and I'm still here!
What do you love most about working at Mad Paws? 
What I really enjoy is the fact that I can just be a regular Joe here. None of my colleagues ever pester me for an autograph or a performance of one of my Grammy-winning ballads. To them, I'm not "Thomas, PhD", or "Thomas, OBE". I'm just plain old "Thomas" – and that's really refreshing.
Tell me about something special you have on your desk
I have a jade skull that the King of Bhutan gifted to me after I saved his life. It's actually a funny story – a silverback gorilla tried to maul him to death during a photo shoot. After I wrestled the gorilla into submission, the gorilla bonded with me, and now he's my constant companion!

What do you spend your weekends doing?
As my name appears on multiple terrorist groups' hit lists, I probably shouldn't discuss my extracurricular movements. What I CAN say is that Richard Branson and I aren't members of the same golf club by mistake! *laughs sheepishly*
What do you have as the background image on your phone? 
It's a photo I snapped during my last visit to the International Space Station. Can you believe I took it on my iPhone?!
Thomas, does anyone proofread these interviews aside from you?
No…why do you ask?
…no reason. If you could Pet Sit any animal, what would it be? 
Without a doubt, I'd Pet Sit a dugong. There's a reason sailors used to mistake them for mermaids – it's because they're sweet, gentle, majestic creatures. Much like my cancer-ending research, they also depend on seagrass, so we're really meant to be.
---
 Quickfire Round 
Ernest Hemingway or Neil Gaiman?
Gaiman for the writing style, Hemingway for the anecdotes.
Marvel or DC?
In my mind, Marvel has proven itself to be the better of the two in every realm of storytelling. Having said that, DC's Batman is the greatest comic book character of all time – bar none.
Coffee or tea?
I couldn't live without either!
Vampires or werewolves?
If I were recruiting for a corporate takeover, vampires. If I were planning a road trip, werewolves.
Bruce Lee or Ronda Rousey?
Sorry, Bruce…but Ronda takes this one any day of the week.
Dogs or cats?
While I love both for different reasons, I'm going to give it to dogs by a slim margin.
Comments
comments