If you're looking to train your dog to ignore the doorbell, it may be because they overreact at the sound. Okay, that's an understatement. Most dogs go absolutely bonkers when someone rings the doorbell. And it can make every guest's arrival a chaotic scene.
Luckily, you're not doomed to a lifetime of dreading the ring of your doorbell. With some patience and practice, you can live in a world in which your houseguests and Pet Sitters are not met with the doggy version of Rambo!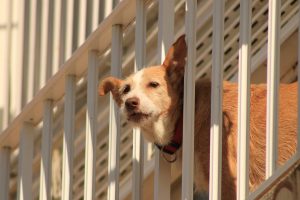 Overview of how to train your dog to ignore the doorbell
There are a few training methods that you can us to help your dog ignore the sound of the doorbell. But, they're all built on the same basic principles: desensitisation and positive reinforcement, which have been shown to reduce strong reactions to loud noises.
Essentially, your dog will learn that the doorbell isn't such a big deal that they need to engage attack mode. This is the desensitisation part. And, for the positive reinforcement portion, they'll learn that they'll get an even bigger reward for doing something other than barking when the doorbell rings.
As you can probably guess, this rewiring of your pup's doorbell reaction will take time. Depending on your dog's learning speed, you may need to work on this training process for several days or longer. 
A few key tips to remember before you get started
No matter if you've got the loudest dog on the block, you can train your dog to ignore the doorbell. But, you'll make the process much easier by sticking with the following tips:
Set the tone.

Perhaps the most important thing that you can do while training your dog is to remain calm. If your dog is barking at the doorbell because they're startled, anxious about the unknown visitor, or wildly excited, you raising your voice at them is like fuel on the fire. So, do your best to lower the volume, resist the urge to punish your dog, and stick to the steps.
Set aside time, daily, during the first week.

Just like you might struggle to get back to work after a long weekend, your dog will have a hard time remembering their training after a long gap. So, when you're ready to train your dog to ignore the doorbell, be ready to work on it for about ten minutes every day for at least a week. 
Be consistent.

Whether you're on day one or week 12 of trying to train your dog to ignore the doorbell, you want to make sure that you stick to the training every time the doorbell rings. As we covered in our article,

How to Avoid Confusing Your Dog

, consistency is a key way for your dog to make associations during training. 
Steps to train your dog to ignore the doorbell
As we mentioned, there are a few different ways to replace your dog's high-octane response to the doorbell with a more calm one. These steps are a good starting point, and we'll offer up some options for customising the training plan for your unique doggo:
Part One: Start the desensitisation process
Hopefully your doorbell ring is a pleasant sound, because you're going to be hearing it a lot! The goal is to ring the doorbell any time you take your dog out for their morning walk; whenever you or any family member comes home; when your dog is face first in a delicious meal; and randomly throughout the day. You can even play an audio recording of your doorbell on your phone. 
The idea here is that your dog will get used to the sound of the doorbell and learn that it doesn't only mean that there are newcomers at the door. Your dog will likely still bark up a storm at the beginning—ignore them!
Part Two: Work on teaching your dog what to do when guests arrive
When training your dog, it's much easier to replace a behaviour than eliminate it completely. So, you're going to teach your dog another way to react to the doorbell ringing that doesn't include turning into a furry Hulk.
Work on sit.

To start, make sure that your dog is a master of the sit command. You'll want to teach them to sit in a specific spot that allows them to see the door from a distance. Choose a unique command for this, such as "sit there" or even "doorbell". That way, they'll know you want them to sit in their special spot. 

Make sure they stay.

Your dog should also be able to stay in their designated spot until you release them. For a more in-depth explanation of training this command, take a look at our article,

How to Teach Your Dog to Stay

.

Introduce the doorbell.

Now, this is where things get tricky. You'll want your dog to be so good at the sit and stay commands that they're able to do it even after the doorbell rings. You'll test this out by having a helper ring the doorbell during your training session.
When the doorbell rings, ignore it and focus on having your dog sit at their designated spot. If they're barking, calmly wait for them to stop, and only give them their treat once they sit down.
You'll also need to make sure that they're able to stay while you move towards the door. If they get up from their place, start over.
This might take quite a few attempts and plenty of treats. But eventually, your doggo can get so good at this that they automatically sit down in their designated area every time the doorbell rings! 
As we said, you can customise this training process for your pup. If they're crate-trained, for instance, you can have them enter their crate at the sound of the doorbell. If you're struggling with the stay part, you might offer your pup their favourite chew toy or treat-releasing toy as an extra incentive.
You've got the basics of how to train your dog to ignore the doorbell! From here, it's just a matter of practice
Some of our dog's most challenging behaviours are the result of good intentions. When your dog goes nuts at the doorbell, they're just trying to show you what a good watchdog they are. Alternatively, they may be trying to provide your houseguests with an energetic welcome!  
So, it can be helpful to take a positive and patient approach to doorbell training. These steps can take time. But when you're dealing with a doggy tornado every time a guest comes over, it's worth the effort. With time, you can train your dog to ignore the doorbell or teach them to sit instead of bark!
Comments
comments