In this article, our blog's resident Pet Sitter Odette McCarthy explores ways in which you can calm an unruly dog. If you're a NSW local and you're searching for a Pet Sitter, visit Odette's profile!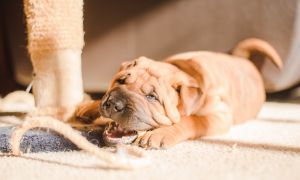 So you've found yourself settling in with a dog who is proving a little hard to handle. Barking and growling, snapping and snatching food, destroying everything in sight, urinating inside, or jumping up on people. Before you judge the dog too harshly, put yourself in their paws. Ask yourself: how would you act if the only people you see every day were suddenly gone and you found yourself with a stranger? Anxious? Angry? Sad? Excited? Doggo is probably feeling all of these things! No wonder they seem to be acting in such an unruly manner. There are a few things you can do to ensure the dog feels safe and comfortable with you. Apply these, and they'll stop behaving like a rebellious teen! 
Establish an initial connection
Ensure you develop a bond between yourself and the dog based on trust and security. Make sure you have an initial Meet and Greet with the dog and their Owner. By doing so, all of you can get to know each other in a safe environment for dog. Remember, dogs have the ability to pick up on certain human emotions. If you're feeling a bit unsettled and insecure, Fido may be able to sense this.
Dogs also notice human voice tones and body posture. If the pooch is being naughty, make sure to use a confident, stern tone and stand upright. That way, they'll know exactly who's in charge. When possible, keep in contact with the Owner to ask if this is normal behaviour for their dog or not. Some dogs suffer separation anxiety from their Owners, which can lead to attention-seeking or nervous behaviours. To the casual eye, though, these symptoms can just appear as if the dog is mucking up. To put them at their ease, you need to make sure dog trusts you as his new temporary master.
Maintain structure
Maintaining structure in a dog's day is essential in their management. Ensure you adhere to their daily schedule to make dog's life without their Owners seem as normal as possible. If you're not sure what their daily schedule entails, ask their Owner before the booking begins. Of course, their schedule may vary depending on their needs. For example, sufficient exercise for an unruly dog can mean going for a walk twice a day. Take them to different places, perhaps somewhere they can meet other animals (providing they all get along!), mix things up and give them time to explore. This will limit the likelihood of them acting out of boredom.
You should also set aside time for play and ensure they have access to different toys. If you're leaving them for part of the day, leave a challenge toy such as a Kong filled with treats that doggo must work out how to retrieve. You CAN teach an unruly dog new tricks! Teach one trick at a time, starting with stay, for five minutes three times a day. Be patient and reward them when they do the right thing!
Eliminate the opportunity to be unruly
There are ways to limit the possibility of the dog misbehaving by controlling their environment. You can limit destructiveness by removing any objects lying around that Fido may want to chew! It may also benefit you to put them in a temporary time out in a separate environment, such as outside, until they behave better.
Positively reinforce their good behaviours
Many naughty behaviours are attention-seeking behaviours. If doggo wants attention, they will try to get any – even negative attention through adverse behaviours. Do not reward these behaviours with attention! If they jump up, walk away and ignore them. If they're barking or snapping, put them outside and ignore them until they stop. Once they are being a Good Dog you can let them know. Talk to them and give them a good scratch, a treat, or a toy. Show them that they will be rewarded with your attention only when they're good!
You need to understand that the doggos you look after will be scared and possibly mistrusting of a new Owner-figure. Establish an initial rapport, keep in contact with their Owner, maintain their daily routine, eliminate the opportunity for unruly behaviour, and use positive reinforcement for their good behaviour. Sticking to these will put you in the best position for handling an unruly doggy!
Comments
comments