In this post, Mad Paws Pet Sitter Odette McCarthy covers how to bond with a dog during a Pet Sit. If you live in NSW and you need a Sitter, take a look at Odette's profile!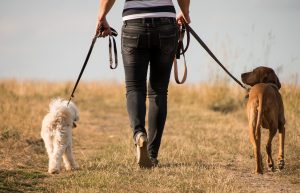 1. Use the "Breed Basket"
Okay, so I may have made that awesomely alliterated adjective up. However, every breed of dog has certain amazing qualities and quirks that group the breed together. For instance, I owned a chihuahua for years. It's true what they say: the small seek to compensate for their size. My chi would bark and snarl at any dog larger than herself and I've noticed this to be a trait of chihuahuas. My sister's dog, a kelpie, began rounding up sheep (and dogs!) at the drop of a sheep's pen at a few months old! A chihuahua, by contrast, would have laid down in the sun well away from the sheep. Make sure you learn about the breed of dog prior to your Sitting, then use that knowledge to work with the dog. Knowing about the breed you're working with will increase your chances of bonding with the dog.
2. Bond by learning their quirky perks
Learn to love each individual dog. Pet Sitting can be an eye-opening experience. While 'reed baskets' provide a guide, you can't completely rely on them when learning to bond with a pooch. With each dog that you meet and look after, you realise they have their own little different personalities, much like people. Some breed types that are renowned for their friendly, adoring nature may develop separation anxiety when their parents leave them. As a result, they may end up doing something naughty to get attention. You also may meet a German Shepherd who has come from a rescue home and is thus anxious and reserved, as opposed to the protector the Breed Basket makes him out to be.
3. Meet and Greet
I cannot profess the importance of the Meet and Greet more. As previously discussed, no two dogs are the same – they are their own individuals. Before starting a Pet Sit, you need to see whether the two (or however many) of you mesh well together. Much like with people, personality types play a huge part when getting along with a dog. One of you may not take well to the other, which can lead to mayhem during a Pet Sit.
4. Remember the (furry) customer is king
Your customer, the dog, comes first no matter what. KNOW THIS! You are doggo's servant for the time you are with them. As such, you'll need to stick to the schedule with which the Dog Owners have provided you. This means you'll be enacting the Owner's place, which will create a certainty in the dog of your desire to care for them, and therefore hopefully bond with them.
5. Initial intrigue with Inu (or DOG in Japanese)
In order to be an exceptional Pet Sitter, one must have a good rapport and recall with pets. Perhaps you grew up with dogs, and can channel your bond with them into the ones you Sit today. Maybe you didn't grow up with pets, but recall always wanting one. Perhaps you have grown to love dogs through your Pet Sitting. If you channel all the emotions of these experiences into your Sittings, the dogs will respond with warmth. After all, dogs can smell your feelings (not literally, but they can sense them!). Good doggy memories will make you want to create The Unbreakable Bond between yourself and every dog you Pet Sit.
6. Realise your role of reassurance
The bond you are creating with any dog comprises of a feeling of reassurance between doggo and yourself.
My Covenant of Commitment is as follows:
            -1         Be there for doggo
            -2         Be good to doggo
            -3         Stick to doggo's schedule
            -4         Treat doggo every once in a while
            -5         Talk to doggo. Let them know what a good doggo they are.
            -6         Listen to doggo's wants and needs (Do things doggo likes to do, go places doggo likes to go and intune yourself to know if doggo is sick, needs a play or a scratch, or needs to go outside or come inside).
If you can assure these things, doggo will come to trust you.
7. Make duck of a dog
Your personal bond may in fact unwittingly occur with a duck instead of a dog. Indeed, I have made a new little bestie in a duck named Happy! Do not doggo-discriminate! Any animal that you Pet Sit could potentially be up for a bonding you. There are cats, cows, goats, sheep, pigs, insects, lizards, tortoises, frogs, wild birds, chickens, and ducks JUST TO NAME A FEW in this world who are your potential partners in The Unbreakable Bond. In other words, make bonds with any pet you can! Make a dog of every duck! You will not bond with every dog you mind, as you will not with every duck.
You need to realise that, as with people, trust must be earned on both sides. Realise that despite your efforts, you may not create a special bond with one doggo. But attempting to bond is always better than living life with regrets. And trying to make furry, feathery, scaly or slippery li'l friends every day has GOT to be the best job in the world!
Comments
comments