Have you ever looked deep into those dark brown eyes and thought: "What in the world is my dog thinking?" Well, you're not alone. In fact, most of us wonder what dogs think about. Are they always thinking about food? Do they ponder their daily dog walk? Are they questioning what their human is thinking?
In this article, we're going to try to piece together the dog brain. This way, we can aim to give you a better sense of what your dog might be thinking.
However, we've gotta let you down easy right from the start: we can't tell you exactly what's going on in that adorable head. Each and every dog is a unique snowflake with a mind of their own. That said, we can take a look at some of the scientific research and see what the experts are saying on the subject.
First of all, some myths
There are some things about our dogs that we Owners have failed to understand. Don't worry if you've made these mistakes when trying to guess what your dog is thinking. Those doggos has the best of us fooled.
Myth #1: Dogs can feel guilt

If you've ever come home to your pup surrounded by the insides of your couch and the look of pure guilt on its face, there are several studies to prove you're reading the situation wrong. It's more likely, according to research, that your doggo is just feeling pretty blue in response to your angry demeanour. What we see as guilt is actually a sign of submission and avoidance, and most pups would act the same way if they were totally innocent.
Myth #2: Dogs can get revenge

Sometimes, it can feel like your dog is out to get you. Maybe it's because you cut their walk short or haven't given them their favourite treat in a while. If you've ever walked in dog poo in the middle of your floor, you might have turned on your dog and said: "Why are you doing this to me?" But it turns out, that's just not how dogs think. In fact, out-of-character behaviours, such as relieving themselves in the house when they're potty trained, can indicate a problem. Instead of thinking your dog is being spiteful, it's much more helpful to ask yourself what might be triggering the behaviour, such as anxiety or even a medical issue.
Myth Three: Dogs constantly trying to become the Alpha

When we think of wolves, the image we generally have is a cut-through fight for dominance. The alpha shows the rest of the pack who's boss through aggression. Yet, researchers who study dog behaviour have found that your furry friend isn't fighting you for the role of alpha. Behaviours like aggression can actually spawn from anxiety and insecurity. Similarly, other unwanted behaviours like leash pulling and jumping up on strangers can suggest a dog confused by their human's many rules. Just like in the wild, dogs want to avoid conflict as much as possible, which means they're not constantly thinking about how to overthrow the leader of the pack. Instead, they just love peace and harmony.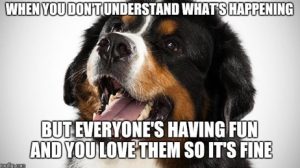 So what do dogs think about, then?
Now we know what dogs don't think about, what is it that they actually do think about?
Well, for one thing, we know that dogs, like many animals, follow the circadian rhythm. In other words, they like to wake up at the same time, eat at the same time, go for a walk at the same time, and go to sleep at the same time, everyday. If you've ever been woken up by your furry friend way too early, it's because dogs think about their schedule, and they can recognise your role in it.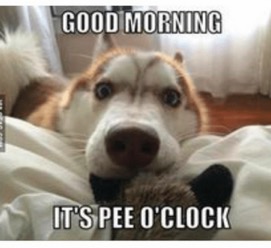 But the relationship between dogs and humans may be even more complicated than that. Indeed, research shows that dogs are more adept at reading human communication signals than any other animal. They've developed alongside us for thousands of years, so it shouldn't be surprising that doggos are constantly thinking about us. This is especially the case when treats or verbal praise are involved.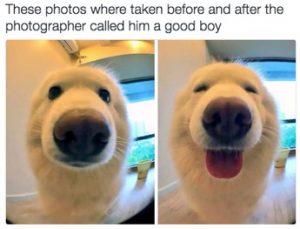 Final thoughts on what dogs think about
At this point, we don't have the perfect doggie translator that can tell us exactly what our pup is thinking. But we can be pretty sure that they think about us and they think about their daily routine. They have pretty good memories, so they probably also think about events from their recent past. This could range from that time when you rubbed their belly, to that possum they once saw in the backyard.
If your pup is happy and healthy, you can bet that their thoughts are positive and loving and wonderful. Just like them. 
Are you pining for a mind-reading carer who gets what dogs think about? Mad Paws has the answer for you! Whether you require a Pet Sitter in Bendigo, Toowoomba, or any other locale, we have the paw-fect Sitter for you. 
Comments
comments