"Cats are afraid of water." If you've ever tried to give you feline friend a bath, you probably know just how true this stereotype is. But have you ever asked yourself why? Other animals love to splash around in pools and puddles. Even the ones that don't particularly like water are just fine wading through it. Cats, though, seem to avoid water at all costs.
In this article, we're going to tap into cat psychology to see just why it is that our feline companions are afraid of water. So we don't leave you hanging, we'll also talk about some ways to ease their water-related anxiety.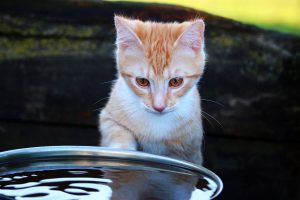 The evolutionary theories on why cats are afraid of water
It's not just Cat Owners trying to figure out why cats fear water. Scientists have put some thought into why cats are so frightful of bodies of water as well.
The first theory has to do with where domestic cats evolved – mainly the Middle East and specifically Turkey. In such a dry climate, these cat ancestors didn't have much of a need to be around water. It didn't rain too much and there aren't too many large bodies of water in the region.
When you compare that to other wild cats, like the Bengal Tiger from India, you can see how environment can shape a cat's relationship to the water. For instance, these huge cats learned that water could be an effective hunting tool and a way to cool down in high temperatures.
There's another big difference between the tigers that evolved around water and the domestic cats that evolved in more arid regions: their place in the food chain. Tigers have the luxury of not having to worry too much about what's under the surface. The smaller cats, though, have a long list of natural predators. Best to stay away from lakes and ponds where you can't see what danger is waiting beneath the surface.
Plus, cats aren't as agile in water as they are on land. Tigers and even lions may be able to wade through the water without much fear, but the smaller cats? Well, their agility is what keeps them alive.
There's another reason why house cats avoid water, too: their coat. Cats have a perfect coat-cleaning system, complete with the right levels of oil in the skin to keep their fur healthy and clean.
Throw water into the mix and you get a difficult-to-dry, uncomfortable coat. In your home, maybe that's not too much of an issue. But in the wild, it can mean life or death for a cat. A perfectly groomed coat is essential for temperature control, territorial communication, and protection against infection and parasites.
Those three theories give us a pretty good idea of why cats are afraid of water. One, they're not used to it. Two, their position in the middle of the food chain makes water more of a threat. And three, water isn't good for their coat.
Are there exceptions?
Sure! Domestic cats come in all shapes and sizes, and they've all adapted a bit differently over the course of their evolution. There are some domestic cat breeds, like Maine Coons, Turkish Angoras, Turkish Vans, and the American Bobtail, that enjoy water. In fact, Owners can even bathe them without much of a fuss.
Why? Well, the ancestors of these cats likely lived near water sources and learned to varying degrees that water could be useful for temperature control or hunting. The Turkish Van, for instance, has a water-resistant coat that makes it more willing to take a dip. That was useful for a breed that developed in the Lake Van region of Turkey!
Can your cat learn to not be afraid of water?
Well, yes and no. For some breeds and some cat personalities, early exposure to water is enough to make them comfortable and even happy when bath time comes around. For others, nothing can convince them that water is safe and pleasant. Even some cat breeds that supposedly like water will avoid it. It all depends on the particular cat, their genetics, and their previous experiences with water.
With that in mind, here are a few tips to make your feline friend more comfortable with water:
Start exposure when they're kittens
Make the bathtub a fun place where they want to play and relax
Give plenty of treats and positive verbal cues
Don't drench your cat all at once – start with paws, tail, and then body
Always use warm water
Don't get impatient – pushing your cat too far will make them fearful
If you've asked a Cat Sitter to bathe your cat, make sure your feline friend is comfortable in their presence
Given all we've talked about in terms of why cats are fearful of water, don't be surprised if your cat never makes the switch from water-avoidant to water-lover. Most would just rather curl up with you on the couch than tag along on your next trip to the beach. 
Looking for the right human to assist your kitty with their fear of water? Mad Paws have some purrfect candidates! Whether you need a Cat Sitter in Melbourne, Perth, or any other city, our pet pros are ready for you. 
Comments
comments