A life without dogs is – thankfully – hard to imagine now. How did we survive the day without a waggy-tailed companion following us around the house? Today, we're taking a look at just how dogs became domesticated. Where did dogs come from?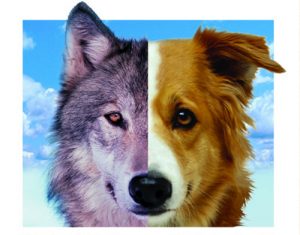 The 'dog' as we know it now, is a descendant of a very specific type of wolf, which is now extinct.

It's estimated that dogs were domesticated between 18,000 and 32,000 years ago (in other words, dogs have been around us for a LONG time)

It is a common myth that humans saw cute, fluffy wolf pups and took them as 'pets', raising them to be domesticated.
The most likely theory is that wolves started lingering around mammoth-hunting humans and feeding on scraps and leftovers
Over time, the wolves would have become more trusting and closer to the humans, and vice versa
Researchers believe that eventually the wolves started to play a role in helping the humans locate prey or keep other carnivores away during a hunt.
It's likely that any wolves that showed aggression to humans would have been killed and so over time, the pack would have become more friendly
Within a few generations, these 'domesticated wolves' would have looked and acted completely different to their ancestors and more like 'dogs' as we know them today!
So, as it turns out… we didn't really domesticate dogs at all, they chose us! And thank goodness they did – a life without dogs is a depressing thought!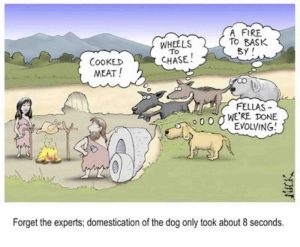 Book a pet sitter for your domesticated hound today!
Comments
comments