Of all of the things we love about our cats, the purr has to be one of the most endearing. It lets us know that our cats are content. It calms us down. And it's something very few animals in the world can do (okay, raccoons come close, but they're not exactly the perfect house pet.)
But what science has been trying to solve for a number of years is exactly why cats purr. It turns out it's not as simple as your cat being happily curled up in your lap. Cats have been known to purr when they're distressed or even dying.
So, what's the deal? In this article, we're going to share some of the most well-researched theories. So snuggle up with your cat and let's get started!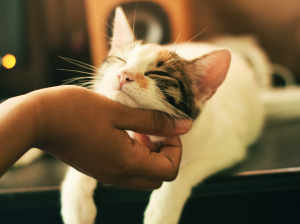 The happy cat
If you're a Pet Owner, you're well versed in the language of the happy cat. They purr when they're receiving pats, or when they see their favourite human. Sometimes they purr when they're eating their favourite meal.
Scientists theorise that this behaviour goes back to the bond that kittens form with their mothers when they're too young to see or meow, or while they're drinking mum's milk. On the one hand, it's a way for mothers to say to their kittens, "I'm here and you're safe". It's also a way for the kittens to say, "I'm okay, Mum".
You'll often hear cats purring when they're being petted (or, in their minds, groomed), or when they're grooming or snuggling with another cat.
The needy cat
Interestingly, just as a cat's purr can say that everything is okay, it can also communicate that they need something, usually food. According to the BBC, cats purr at higher frequencies to let their Owners know when they're hungry. They can also purr when they just want a bit of extra attention. This higher frequency is similar to the higher pitch of a baby's cry, which triggers us to go into care-taking mode.
To test this theory out, you can do a little experiment with your furry friend. The next time your cat is curled up on your lap, purring away because you're giving such excellent scratches behind the ears, see what they do when you suddenly stop. You might notice the purring becoming more insistent, along with a couple of flicks of the tail. This is your cat asking you, impatiently: "Hey, why did you stop?"
Around dinnertime, your cat may use a similar purr. You'll have to listen closely, because most cats will meow while they're using this high frequency purr. As you could probably guess, this roughly translates to: "Hurry up! Hurry up!"
The healing cat
One of the most intriguing and least understood reasons why a cat will purr is to heal.
According to an article in Orthopaedics This Week, the frequency of a cat's purr promotes bone regeneration and growth. It can also reduce pain and inflammation. With this in mind, it's not surprising that a cat would purr when they're injured or dying.
And it gets even more surprising. Purring has a calming effect on humans too, lowering blood pressure and promoting heart health. Those are great justifications for hanging out with your cat every night, especially after a long and stressful day.
More Fun Facts about the Purr
Purring is a sound made because of the laryngeal muscles, which contract and relax to make vibrating sounds in the voice box. Domestic cats are some of the only animals in the world able to achieve a true purr, one that occurs during inhalation and exhalation, rather than a purr-like vocalisation.
Big cats like lions, jaguars, and tigers are not able to fully purr, although some of their sounds sound purr-like. The smaller members of the cat family – cheetahs, pumas, and bobcats – can purr. 
Do you want to keep your cat purring from joy when you're not around? Find them the purrfect Cat Sitter! Whether you live in Cairns, Melbourne, Perth, Hobart, or anywhere in between, Mad Paws can connect you with the right Sitter for your kitty.
Comments
comments