Growing up, she raised cats, dogs, and rabbits. As a Pet Sitter, she cares for animals of all shapes and sizes. A pet lover based in Bondi NSW, Olivia treats every Pet Sit as an adventure for her furry client. In this August Pet Sitter of the Month profile, Olivia shares her secrets for stellar Sitting. Want to know more? Visit Olivia's profile and see why she's one of Sydney's best Pet Sitters!

Why do you love being a Mad Paws Pet Sitter? 
I always feel happy and relaxed around animals. I would love to work in a zoo, but as I don't have the required qualifications, being a Pet Sitter is the next best thing! Mad Paws work gives me flexibility around my other commitments, and as a bonus to spending time with pets, I get to be outside a lot. In fact, I've often found myself discovering little gems of locations that I wouldn't have come across otherwise.
What's your favourite thing to do with your furry clients?

 
I love having lots of cuddles with my pet clients. I think animals respond well to smiles, chats, and cuddles; when pets can tell you love spending time with them it makes their day all the better. If I'm with cats I like to give them paw massages. They love it, and I love to hear them purring. I really enjoy walking too so I like to take the dogs out for as long a walk as possible. I love seeing them really absorbed with investigating all the sniffs! 
What was the first pet you ever owned? Do you have your own pets now?

 
To start with, I had three cats, two rabbits, and a dog. It was plenty to keep me occupied as a child! My housemate has an American Staffy called Taz Clooney ("Taz" because apparently he looks a bit like a Tasmanian Devil, "Clooney" because he's so handsome). My housemate isn't around often so I take good care of Taz; I work from home a lot so it's easy for me to keep him company. He's the best – he bangs on my bedroom door every morning with his head to tell me it's time to seize the day.
Do you have any particularly memorable furry guests?
It's hard as I've never had a furry guest I don't remember. They're all memorable for different reasons! I used to look after a very dear dog called Harry before he passed away at the grand age of 16 years. He was deaf and blind and couldn't really walk so I used to put him in a little cart on wheels and take him to coffee shops around Bondi where he enjoyed just sitting on his little fluffy cushion, sniffing the air and soaking up the atmosphere. That little outing would have him snoozing for the rest of the day!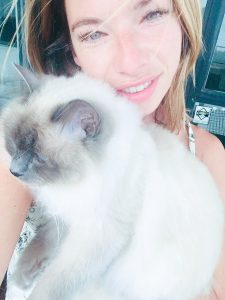 If your furry guests could talk, what one question would you ask them at a Meet & Greet? 
What's the naughtiest thing you've ever done that your humans still don't know about? Promise not to tell.
What's your one top tip for new Pet Sitters?
If you're walking dogs, always carry a collapsible water bowl with you, especially if it's hot. When you are House/Pet Sitting, always leave things as neat and tidy as possible afterwards. Finally, set your prices low to start with whilst you build your client base. 
Are you searching for a Sitter beyond Bondi? Take a look at Mad Paws' Pet Minders near you!
Comments
comments