Are you or your trusted Dog Walker keen to head out on adventure with your pupper in tow? Not sure whether your dog will handle the journey on foot? That's where dog backpacks come in. 
These handy dog carriers make lugging around your furry friend much easier, especially if they're on the smaller side. They're also great for carrying your belongings, as well as treats of both the dog and human variety.
Wondering about the best dog backpacks currently on the market? We've done the hard work for you and put together some of the top options available in Australia.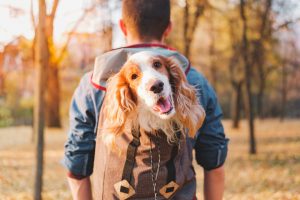 The six best dog backpacks in Australia
Dog backpack #1: Pidan Pet Carry Backpack
Aesthetically, this might just be the best dog backpack of the bunch. With its minimal look, cool colour scheme, and sleek transparent travel window, the Pidan Pet Carry Backpack is ideal for four-legged style aficionados. 
It's also very functional. Featuring a clasp, handles and belts, you can use it as a backpack, carry bag, or car seat. It's also collapsible and can be used to carry cats, if you're a pet-diverse household. 
#2: Ibiyaya Two-Tier Pet Backpack
Got multiple doggos at home? This nifty dog backpack allows you to carry two of them at once! The upper and lower compartments are designed to comfortably hold two small pets, including dogs and cats. Alternatively, you can use one compartment for storage or even remove the central divider and carry one medium-sized pet.
The Ibiyaya Two-Tier Pet Backpack also doubles as a car booster seat thanks to its seat belt loops. Add to that its breathable mesh windows and openings, multiple side pockets, and collapsible structure, and you've got one heck of a dog backpack!
Dog backpack #3: K9 Sport Sack
The K9 Sport Sack is the Cadillac of dog backpacks – or, perhaps more accurately, the Jeep Wrangler. It's perfect for taking your doggo off-road due to its ergonomic design, multitude of features, and sporty look.
This vet-approved dog backpack has numerous straps intended to keep both you and your pupper comfortable throughout the journey. It also has an adjustable collar enclosure, a detachable dog hood, vents and temperature regulation fabric, and several storage pockets.
Plus, with multiple sizes available, it can fit all kinds of dogs. Everyone from Chihuahuas and Papillons to Basset Hounds and Goldendoodles can hop inside a K9.
#4: Kurgo G-Train K9 Pack
This is another fantastic pick if you're a lover of the outdoors. The Kurgo G-Train K9 Pack is functional, versatile, and created for comfort. The hip belt, load lifter straps and sternum straps are perfect for us humans, while the ventilated mesh panels and roll-up window keep puppers happy. 
You can also carry two water bottles and stow away your laptop or iPad using the in-built sleeve. As well, the base of the backpack is crafted from Armorsole, which makes it both water and muck proof. The best part, though, is that you can use the Kurgo G-Train K9 Pack as a backpack or traditional carrier. This makes it a great all-in-one option.
Dog backpack #5: Ibiyaya EVA 4-in-1 Combo Pet Carrier
This is the ultimate multifunctional pet carrier. At first glance, it simply looks like a roller bag for your doggo. But it's actually much more: the Ibiyaya EVA 4-in-1 Combo Pet Carrier turns into a traditional shoulder carrier, a backpack, and a car seat.
On wheels, this carrier is ideal if you'd rather not lug around your pupper all day. As a traditional carrier, it allows you to tote them around hands free. When it transforms into a backpack, it offers plenty of space for your dog to laze about. And when it becomes a car seat, it slides into your vehicle seamlessly thanks to its in-built seat belt loops.
Dog backpack #6: Outward Hound PoochPouch Front Carrier
Prefer to place your dog where you can see them? You might be better off with a front carrier. These forward-facing dog backpacks are just as comfortable as their backwards counterparts, but they allow you to keep an eye on your furry friend at all times.
The Outward Hound PoochPouch Front Carrier is a great choice. Firstly, it has adjustable padded shoulder straps for comfort and a waist strap for stability. Secondly, it has a safety leash collar attachment and padded bottom for your doggo. And lastly, it's available in two sizes for small to medium-sized dogs.
Comments
comments