Looking to spoil your pooch this week? These nutritious, bite-sized parcels of flavour from Lola the Pitty will give your pup everything they crave in a snack! Each treat is a doggy dinner in the palm of your hand, and will have your furry friend wanting more.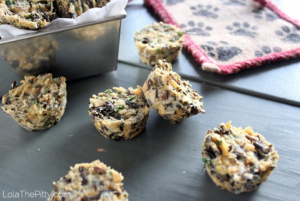 Ingredients
1 cup wild rice, mashed
1 cup chicken, diced fine or shredded
3 Tablespoons rice flour 
1 Tablespoon fresh parsley, diced
1 egg, beaten
Instructions
Preheat oven to 180 C
Combine all ingredients in a mid-sized mixing bowl and stir until fully integrated
Press the mixture into each cavity of a baking tray using a spoon. Pack tightly and fill each cavity almost to the top
Bake for 25 minutes or until treat tops turn golden brown
Allow to fully cool before your pooch tucks into them!
If you really want to spoil your furry friend, book them in for a session at Doggy Daycare!
Comments
comments