Hollywood happenings are always interesting. But what happens when you throw celebrity pets into the mix? From custody and quarantine battles to crazy claims around a certain King of Pop's chimp, there's a lot to explore when it comes to court cases involving celebrity pets. High-priced lawyers, affidavits, expert witnesses – these cases have them all!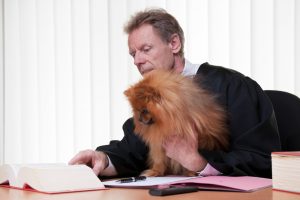 Court Cases Involving Celebrity Pets
Court case #1: Tiger King
This is possibly one of the most infamous court cases involving celebrity pets. The ongoing saga of the Tiger King – AKA Joe Exotic – caught the attention of millions when it aired on Netflix. Exotic ran a tiger and exotic animal park in Wynnewood, Oklahoma, which was fascinating in itself. But the feuds, scandals, and goings-on within the park seemed to court more interest (and controversy).
Things escalated in early 2019, when Exotic was sentenced to 22 years in jail. He was accused of wildlife charges and two counts of murder-for-hire against Carole Baskin, his arch nemesis who ran animal sanctuary Big Cat Rescue in Florida. To this day, Exotic continues to fight the charges and is seeking a new trial.
Court case #2: A celebrity cavoodle
In the world of Instagram, there's no shortage of pet influencers. Oscar the Cavoodle was one of them, once boasting more than 10,000 followers. But things got a little convoluted with Oscar. While one man technically owned him, another woman and her husband puppy-sat him whenever his owner was away for work.
The Owner alleged that the couple profited from Oscar by hiring him out for stage shows and product endorsements. He also claims that they refused to give Oscar back when he returned from a trip in 2019. 
The feud resulted in a showdown in a Sydney park. The Owner allegedly snatched the dog, an argument ensued, and the couple ended up taking Oscar home. Currently, the Owner is trying to win back custody. Yet another example of why it always pays to book a properly vetted Pet Sitter! 
Court case #3: A hefty inheritance
We often hear of cases where pets inherit vast sums of money from their late Owners. One of the most fascinating involves Gail Posner.
It's said that Posner, a Miami heiress, treated her dogs incredibly well – to say the least. They had a publicist, a bedroom each, diamond jewellery, weekly spa trips, and their very own Cadillac Escalade. 
When Posner passed away, she left her US$8.3 million Miami Beach mansion and a US$3 million trust fund to her three dogs. She also allowed a number of her staff to continue living in the mansion so they could look after the dogs. However, her son – who received US$1 million in the will – filed a lawsuit against the staff. He claimed they induced his mother to change her will.
Court case #4: A not quite as hefty inheritance
In another case involving a substantial inheritance, the judge wasn't so lenient. Leona Helmsley was an American businesswoman and billionaire who left US$12 million to her Maltese when she passed away.
However, a year later, a judge ruled that the dog didn't require that much money to be properly cared for. Consequently, they reduced the sum to US$2 million – which is still a decent inheritance, if you ask us.
Court case #5: Grumpy Cat's face
Grumpy Cat might just be the most famous feline on the 'net. It's not known exactly how much she earned through her various book deals, appearances, and modelling gigs (although rumour has it the amount was in the high millions). What is more well known is how much her Owners gained following a copyright lawsuit in 2018.
Californian coffee company Grenade Beverage inked a US$150,000 deal with Grumpy Cat's crew to use the kitty's face on a line of iced coffees. But things got hairy when Grenade used her face on other products that weren't authorised. 
This led to Grumpy Cat's Owners suing Grenade for copyright and trademark infringement, which the judge ruled in their favour. The result was a US$710,000 payout for Grumpy Cat and her humans.
Court case #6: Australia's most famous animal quarantine case
When Johnny Depp was in Queensland shooting the fifth Pirates of the Caribbean movie, then-wife Amber Heard decided to pay him a visit. What ensued has been called Australia's "highest profile criminal quarantine case" by The Guardian.
Heard arrived in Australia via private jet with the couple's two dogs, Pistol and Boo, on board. As anyone who's flown here knows, strict laws mandate that travellers must declare anything that could threaten Australia's biosecurity. 
On her incoming passenger card, though, Heard supposedly ticked that she didn't have any animals with her. A Gold Coast grooming salon then accidentally revealed the dogs' presence in Australia when they posted pictures of them online.
The debacle ended up in court, with Heard facing illegal importation charges and up to 10 years in jail. However, the judge handed down the lesser charge of making a false customs declaration. This resulted in a $1,000 fine and Heard being made to star in a curious video apology.
Court case #7: Celebrity pet custody battle #1
Custody battles are pretty common in Hollywood. And they don't just involve children, but pets, too. One of the most notorious is the one between former spouses Britney Spears and Kevin Federline.
The pair's divorce led to Federline gaining physical custody of their two children. The clash spilled over to their pets, and even caused PETA to step in. The president of PETA, Ingrid Newkirk, wrote a letter to Federline. She urged him to seek total Ownership of the pets over concerns about Spears' ability to take care of them. However, the outcome of the court case remains unknown.
Court case #8: Celebrity pet custody battle #2, #3, #4…
With so many celebrity pet custody battles taking place, we thought we'd mention some of the other famous couples who've gone head-to-head over their pets. 
Honourable mentions include Jake Gyllenhaal and Kirsten Dunst; Hugh Hefner and Crystal Harris; Drew Barrymore and Tom Green; Mandy Moore and Ryan Adams; Antonio Banderas and Melanie Griffith; Jennifer Aniston and Justin Theroux; and Johnny Depp and Amber Heard.
Court case #9: A… pet-nup?!
Much like custody battles, prenups are a dime a dozen in celeb-land. Mariah Carey and Nick Cannon are two celebrities who had one in place prior to getting married. However, it didn't include their pets. Like many other celebs, they ended up in a custody battle over their eight dogs.
Nowadays, the aptly named 'pet-nup' is becoming much more commonplace. This is not only in Hollywood, but in marriages between non-celebrities, too. Apparently, they're on the rise in countries around the world, which we reckon could've saved the aforementioned celebs a lot of trouble.
Court case #10: Michael Jackson and Bubbles
The trial of Michael Jackson is one of the most widely publicised. It even involved his beloved pet chimp, Bubbles. As part of the case, there were some pretty serious allegations surrounding Jackson's treatment of Bubbles. However, Jackson maintained that he loved his pets and that they were even capable of some rather human habits.
Jackson said Bubbles boasted excellent table manners and was able to use a fork and spoon. As well, he said his other chimps were capable of cleaning and dusting. A number of Jackson's former maids almost directly disputed these claims, though. Instead, they said they had to clean up after the chimps whenever they, er, threw their business at the bedroom walls.
Comments
comments