In Dog Breed Corner this month is the Yorkshire Terrier! Check out the Yorkie's stats, personality, trainability, health, grooming and more!
Quick Facts
 ✔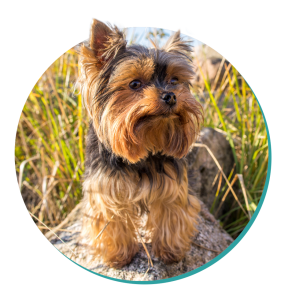 ​
Height – 20 – 22cm
Weight –2 – 4kg
Lifespan – 12 – 15 years
Country of origin: England
Breed type – Toy
Best breed for: 
Apartment living
First time dog owners
Families with older children
Breed History

 
♜
The beloved Yorkie has only been around for a couple of hundred years and originated from the mixing of other terrier breeds brought to England from Scotland by people in search of work. They were originally used for rat catching in mills and workhouses and for burrowing underground to flush out foxes and badgers; the hunters would carry them in their pockets as they rode. A Yorkshire Terrier named Huddersfield Ben who was alive in the 1860s and appeared across the UK at dog shows is thought to be the 'father' of the breed as he set the breed standard as we know it today.
Personality Traits & Trainability

 

★
The Yorkie is a small dog with a big personality! One minute they'll be curled up on your knee snoozing, the next tearing after the neighbourhood Great Dane – Yorkies are renowned for being completely oblivious to their size! Due to their small stature, it can be tempting to allow Yorkshire Terriers to get away with things a bigger dog wouldn't; jumping up at people, barking at strangers, pulling on the leash etc. As with all breeds, it's important that Yorkies know their place in the pack and so should be treated and trained like any other larger dog. Although they can be stubborn, Yorkies are intelligent little pooches who can be trained to do all sorts! They make exceptional companions and family dogs, although it is important that young children understand that they must be gentle when playing as the tiny Yorkshire Terrier can easily end up with broken bones or injuries from being dropped, squeezed or stepped on.
Living Conditions

 

⌂
Due to their size, Yorkshire Terriers adapt well to apartment living. They will need regular exercise to stay healthy and happy and can walk a surprising distance for their size! Yorkies love trotting along beside their owners and will keep going and going!
Grooming

 

✄
Yorkshire Terriers have a very low shedding single coat. Yorkies used as show dogs have long, silky hair almost to the floor. Many owners prefer to keep their Yorkie's coat short and therefore a cut is required around every 8 weeks. Regular brushing at home will avoid matting in the Yorkshire Terrier's coat.
Fun fact 

 

♥

 
Popular belief suggests that Yorkies were bred to protect small children from rat bites at night time. One Yorkie would sleep at the head of the bed and one at the foot, like little furry guardian angels!
Comments
comments