Many Pet Owners have dealt with their dog drooling. Whether your dog is always a slobbery mess, or only courts saliva after a snooze, dog drooling can be normal. 
That said, excessive dog drooling can also suggest something more serious, like an illness or dental problem. So even if your pup is prone to drooling, it's a good idea to know your slobber. In this article, we'll equip you with the fundamentals of doggy dribble!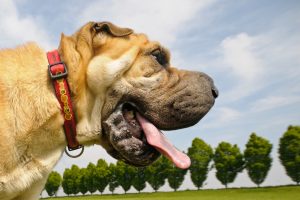 Let's start with benign dog drooling
Some doggos drool. And, really, it's not their fault. Generations of breeding for a picture-perfect muzzle structure has left them with a drooling tendency. We're talking about those notoriously slobbery dog breeds: Saint Bernards, Bernese Mountain Dogs, Bulldogs, and Newfoundlands.
Why are these puppers so prone to dribble, you ask? It's all thanks to those wrinkly jowls. Water and slobber can become trapped in their lip folds, only to later spill onto your furniture and fresh clothing. You've gotta love them—and keep a stash of drool rags around the house.
Of course, benign dog drooling isn't just for the drool-prone breeds. Pups might also start salivating the moment that they see you preparing them a delicious meal for dogs. Excitement could be another reason for a slobber session. When your dog anticipates the arrival of their local Pet Sitter or you turn the corner into the dog park, you might notice your dog drooling.
Finally, an otherwise healthy dog might be drooling due to heat. This one is a bit borderline, since excessive dog drooling can be a sign of heatstroke (which we'll explore below). But, if your pup isn't showing other symptoms of heat exhaustion, drooling is completely normal.
Reasons for sudden drool
A sudden onslaught of slobber is a red flag warning that your pup might not be well. In other words, if your dog starts foaming at the mouth after a lifetime of minimal drooling, they could be facing a more grave problem. These include: 
Stress. It's pretty typical for dogs to drool on the way to the vet or groomers. Provided it's not paired with other symptoms, you can feel safe that your dog will stop drooling once they've relaxed.
Stomach problems. If your dog is having trouble digesting their dinner—either because they ate too quickly or are trying out a new type of dog food— their body will engage the natural response of salivating. Keep an eye on your pup, because they might be preparing to vomit.  
Nausea. Perhaps not surprisingly, doggos can suffer from motion sickness, just like humans. If you notice your dog drooling more in the car, especially on long car trips, while also acting lethargic and woozy, it might be the case that your dog has a bout of car sickness.
Ingestion of a foreign object or toxic substance.

This reason for dog drooling can occur after your dog has swallowed anything from a chicken bone to a

toxic plant.

If you didn't see your dog swallow something, you might still notice symptoms such as whining, panting, diarrhoea, vomiting, and obvious distress. Depending on the type of foreign object or substance they swallowed, this could be a serious situation that requires immediate veterinary care. You can read our full article,

What Happens if My Dog Swallows a Foreign Object?

, for more information.

Heatstroke. The symptoms of

heatstroke

are similar to some of the other conditions on this list: fatigue, excessive drooling, and panting. High temperatures are the reason for this condition, so you should move your dog to a cool setting and get in touch with your veterinarian for advice.

Toothache.

Our doggos can't tell us when they have a toothache, but there are some tell-tale signs of dental discomfort. One, of course, is drooling, but you might also notice a decreased appetite, bad (worse than normal) breath, and a change in mood. 

Seizure. Like in the case of your dog ingesting a foreign object, if you aren't present to see the actual seizure, there are some symptoms that you might notice. One of these would be drool or foaming around the mouth, as well as a state of confusion or fatigue. In addition to calling your vet for specific advice, you can help your dog by keeping them cool with a fan and talking to them soothingly. Until your dog is fully recovered, don't attempt to clean the drool, as they may accidentally or uncharacteristically bite you.
As you can see, there are many different reasons why a dog might start drooling excessively. If your dog is drooling without an obvious cause, it's important to reach out to your vet and rule out any of the more serious dog drooling explanations.
How to deal with the endless dog drooling
If your dog's drooling is normal and constant, you may like to know how you can make life less slobbery. Unfortunately, you can't eliminate the drooling completely. But you can follow the lead of some dog drooling pros (i.e. Dog Owners with drool-tastic doggos):
Always have drool rags on hand

. In the car, in the kitchen, in your back pocket.

Drool rag, but make it fashion

. Dog Owners of drooly breeds have figured out that a simple bandana can do wonders to fight the slobber.

Anticipate peak dog drooling hours

. When you know which situations elicit a drool session, such as when they're in the car or just finished a jog, you can be ready with a slobber towel.
Prepare the eating area.

Make sure to keep your pup's food bowl on an absorbent towel, so that they can step away from the water bowl or their Mad Paws Dinner Bowl without tracking slobber throughout the house.
Dog drooling isn't the most glamorous part of Pet Ownership, and it can sometimes herald a health problem. On the other hand, we can also see dog drooling as one more way for us to understand our doggos. By reading the symptoms around their drooling, we can ensure they're healthy and happy!
Comments
comments