Dogs love walks – some with a little too much enthusiasm! If your dog tends to take you for a walk, pulling on the lead, these tips will help you enjoy your walks more…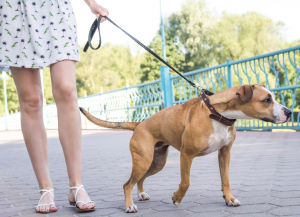 Understand why dogs pull on their lead
Most dogs pull on the leash simply because they love to be out and about, sniffing the scents. Some may pull when they see another dog, either wanting to play or, alternatively, telling that dog to back off!
If your dog pulls due to being overly energetic or enthusiastic then the following steps may help.
1. Start at home
Dogs tend to be less enthusiastic on familiar territory. Home is also where most Owners have greatest control of their dog, so begin by walking your dog around your home on a lead. If this is difficult or you know your dog is hard to manage when outdoors, then consider using a harness or a head halter. Take your dog to a specialty pet store to have one fitted.
As you walk your dog around your home, ask them for a 'Sit' and praise them when they obey. Ask them to 'Walk' and use a treat to reward their calm walking.
This first step is teaching your dog the behaviour you would like them to do. Trying to train them when they are already pulling you and full of excitement is almost impossible, so begin where everyone is calm.
2. Progress outdoors
Next, take your dog into your backyard and repeat the same exercises. Always reward your dog for walking calmly by your side. Following on from your backyard, walk your dog at the front of your home where there tends to be more distractions.
Work on getting your dog's attention. Say their name or give a command like 'Look at me' and when your dog makes eye contact, give them a reward.
Have a friend or family member set up some distractions, such as movements or noises, and practice walking with your dog while ignoring these distractions.
3. Into the streets
Progress to taking your dog out into the streets and walking around your home area. Failing this, keep them in an area with few dogs or other distractions. 
Use this opportunity to control your dog's movements by asking them to 'Sit', 'Wait' before crossing roads, and 'Walk'. Reward your dog when they calmly walk by your side. If they pull on their lead, stop walking and do not reward them. Only bring out the treats when they start keeping pace with you.
If your dog is difficult to manage at this stage, you may like to try walking them in a less interesting alleyway; one that goes nowhere. If your dog is walking towards a brick wall, they are less likely to pull enthusiastically.
Another alternative for the hard-to-manage, enthusiastic dog is to train them on the way home from a walk or a play in the park. Their energy levels may be diminished and they'll be more likely to be easier to manage.
4. Difficult walks
If you have difficulty at this stage, with your dog still pulling, set up some encounters with friends and/or dogs in a location where it's easy to manage your dog. Stay at a distance where your dog does not react and praise and reward calm behaviour. Gradually get closer to the exciting object but remain at a distance that your dog stays calm. Over time, you should be able to get closer.
Still pulling your hair out?
If your dog is still hard to manage, then you may like to have a few lessons with a Dog Trainer. Ensure they use positive, motivational methods of training and actually train you on how to train your dog.
Ensure your dog has enough alternative outlets for their energy. If they are pulling on the leash because this is the highlight of their day, you may find they calm down if they have other appropriate energy outlets. Possibilities are trick-training; food-releasing toys; dog sports such as agility or fly ball; or a play date with a dog friend.
Lastly, if it is really too difficult to manage your dog ,or you find that you walk your dog less often then they need, then consider using a dog walking service. A reputable Dog Walker will give you peace of mind that your dog is being cared for in addition to using up their energy. Then you can relax knowing your dog's needs are taken care of.
About the Author 
Dr Jo Righetti is a PhD Animal Behaviourist, helping people understand pets and solve any issues with their cats and dogs. Through her business Pet Problems Solved Dr Jo consults through vet clinics, businesses, councils, and media. Jo had also written a series of pet behaviour books and ebooks for Pet Owners.
Comments
comments