How do dogs communicate with humans? If you've been following the trend of word buttons for dogs, you know it's a question that's been gaining attention. Over the last year, many of us found ourselves at home with our pups. As such, the idea that they could talk to us by hitting a few buttons has been really exciting!
But, fun as these viral videos are to watch, we still have questions about how dogs communicate. Can our furry friends really learn to speak English? Or are they wishing that we would listen to their other forms of communication instead?
In this article, we're going to answer the question "how do dogs communicate with humans?". And you might find that you're already pretty good at reading Fido's thoughts!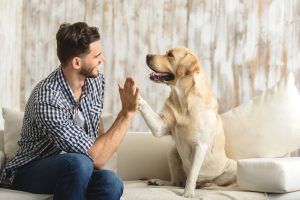 Word buttons for dogs: do they really work?
If you didn't spend 2020 watching TikTok videos, you might have missed the story of Bunny, the talking dog. In short, this Sheepadoodle wowed the internet by learning how to communicate with her Owner through a series of buttons. When pressed, these buttons said words like "play," "now," and "want." 
Bunny, along with dogs all over the English-speaking world, have signed up to be part of a study run by the University of California, San Diego. The idea is to gather video recordings of dogs using the word button boards to see whether the pups are really learning to communicate. Unfortunately, it won't be until 2022 that we see the fruits of their data collection and analysis.
Keeping in mind that the research is ongoing, how excited should we be about this new frontier in canine communication? Some animal behaviourists are saying we shouldn't get our hopes up just yet.
That's because it's very easy to get ahead of ourselves when it comes to at-home doggy experiments. We want to think that our dogs are communicating, when really, they're just learning basic association. 
Think of it this way: a pup may understand that when they hit the "walk" button, they're conveying to their Owner that it's time for their daily walkie, please. Or, they've simply learned that when they hit the walk button, their Owner will reward them with a walk! It's also entirely possible that the puppers are hitting buttons at random with the hope of a fun reward—after all, many of the button boards are fitted with activities that doggos love, such as play, scratches, and going outside. 
In other words, we humans badly want for our puppers to succeed. As a result, we risk attributing cognition or language acquisition to them that, well, isn't really there.
And until we can get our paws on a controlled study of these button boards, we can't know for sure.
How do dogs communicate with humans WITHOUT using the buttons?
The good news is, while we wait for the results of the button board study, our dogs are happy to speak to us in other ways. In fact, in our article, Can My Dog Read Facial Expressions?, we discussed the amazing ways that our dogs read human communication signals. And as it turns out, they're pretty good at sending their own signals, too! Here are a few examples:
Body language.

Dogs use body language to convey a range of emotions. When they're happy, our dogs may wag their tail, perk up their ears, or bow down in a playful pose. And when they're feeling fearful, we can see them physically curl up and put their tail between their legs. Sadly, we humans aren't very good at picking up the scent cues that go along with these gestures. As such, physical body language is one of the best ways to understand what our dogs are trying to say.
Facial expressions.

Puppy dog eyes aren't just cute, they're also an example of how our dogs have evolved to better communicate with us. Unlike their wolf ancestors, doggy facial muscles give them greater control over their eyebrows. And, scientists think that's because eyebrows are an important part of human communication. We see our dog's adorable eyebrow wiggle and we know exactly what they're looking for—usually a bite of delicious dog food!
Even the simple act of eye contact is another key way that dogs have evolved to communicate with us. In the animal world, eye contact is a form of aggression. With this in mind, you'd think that our doggos would avoid locking eyes with us. Yet, over the course of our time with dogs, they've learned not only that eye contact isn't aggressive between humans, but also that it's a good way to get our attention. You might have seen this in action at dinner time when your dog stares at you until you feed them.
Vocalisations.

Unless your pupper is part of the

quiet dog breed

category

, you're probably pretty familiar with the wide range of canine vocalisations. Pomeranians may bark to show that they're excited.

Shiba Inus

are known for conveying annoyance with a distinctive yell called the Shiba scream. And

Siberian Huskies

, well, we're not sure what to call it, but they've got quite a range of vocalisations to share. Beyond that, there are

many different kinds of barks

that can convey anything from happiness to nervousness to loneliness.
Unwanted behaviours.

If you come home to a sofa that has been completely torn up by your dog, it could mean that your dog is trying to tell you something. But, unwanted behaviours like this are some of the communication methods that are the hardest for us humans to understand. The problem is, we assume that our dogs are trying to tell us that they're upset, jealous, or vengeful when they destroy our home. In truth, they're probably conveying a message that they're sad, anxious, sick, lonely or bored. With more attention, mental stimulation, and quality time with their Owner, it's common to find that these unwanted behaviours go away. So, while these kinds of behaviours (intentional or not)

are

a method of communication, it's up to us to figure out what our dogs are trying to say.
Can you get better at reading your dog's thoughts?
Absolutely! And the amazing part is: you probably don't need to do anything extra to get better at understanding your dog. Canines have developed some brilliant ways to communicate with us humans, and all we have to do is spend time with them to start speaking their language.
After answering the question of how do dogs communicate with humans, you can start exploring the communication style of your unique doggo! Let us know how your pup tells you, your houseguests, and their dedicated Pet Sitter what they're thinking.
Comments
comments