Anyone who has a dog has probably turned to the internet, and specifically internet dog trainers, for help! Whether it was a 3am search because your dog was howling at seemingly nothing or in the middle of your walk because your dog would not stop pulling on the leash, these doggy experts might have come to your rescue.
And, similar to your dog's vet, dedicated Dog Walker, and groomer, these internet stars can be an invaluable addition to your doggo's life. Let's bark it up for seven internet dog trainers you should know!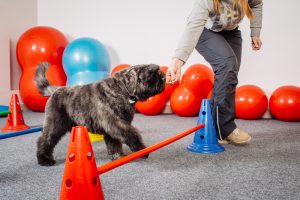 The OG internet dog trainers
Some dog trainers have been around for as long as we can remember. And, over the years, they've earned their substantial following of Dog Owners all over the world.
#1: Victoria Stillwell
You might have seen this certified British dog trainer on TV, the shelves of your local bookstore and plenty of online videos. She's one of the most recognisable faces in the dog training world and continues to create more content that you could ever consume!
Stilwell was one of the first prominent dog trainers to advocate for positive dog training, and her early work has developed into her Positively Dog Training program. 
While this famously funny trainer has based her career primarily in the United States and the UK, she travels around the world, helping small animal shelters rehabilitate and train dogs for their future homes. 
And, if you want her tips and tricks, there's a deep catalogue of videos on YouTube.
#2: Dr. Dunbar
Dr. Ian Dunbar is a world-renowned veterinarian and animal behaviourist who brought a scientific lens to the world of dog training. When he wasn't writing best-selling books for Dog Owners, he spent most of his career giving talks and seminars around the world. And when he wasn't doing all of that, he was developing the famous Dunbar Bite Scale that has been used in subsequent dog behaviour research and by the Association of Professional Dog Trainers.
At 74, this top dog of dog training isn't as active as he once was. But, he and his family have continued to run a free online dog training website where Dog Owners can learn how to teach their dogs with science in mind.
#3: Susan Garrett
Another dog training veteran, Susan Garrett has been in the field for the better part of three decades. Like Dr. Dunbar, Garrett has an academic background in Animal Science, and has used her studies to inform her training practices.
She is perhaps the most competitive on our list of internet dog trainers, with her personal dogs winning championship after championship in agility trials. Somehow, she also finds the time to keep up a weekly podcast, blog, and YouTube channel. If you have a question about dog training, you can be sure that Susan Garrett has answered it in multiple mediums.
Internet dog trainers to binge on YouTube
Some internet dog trainers have absolutely dominated YouTube, which is great if you're looking to hunker down and learn everything there is to know about dog training. Here are two trainers who will take you down a rabbit-hole of tricks and tips for your dog!
#4: Zak George
It's clear to see why Zak George has earned a following of over 3.2million subscribers on YouTube. He's clear and experienced, and brings a bubbly energy to his training sessions. 
But the real draw here? His videos are relatable! 
Watching a seasoned dog trainer release footage of their own mistakes will make you feel much better about your dog training skills. Let's face it, sometimes the best lesson a Dog Owner can learn is that no one is perfect. And, because he works with dogs who haven't had any prior training, it's a refreshing break from training videos that make the training process look easy and quick.
#5: Emily Larlham
You might know this dog training star on YouTube as Dog Training by Kikopup, but if you met her in real life, you might call her Emily Larlham. Larlham's channel has 310k subscribers and over 300 helpful videos covering topics from basic training to fancy tricks and training for service dogs.
You'll come for the information, but you'll stay for her five adorable doggos!
Internet dog trainers right in your own backyard
Sure, it's nice to follow the world's leading internet dog trainers, but what about the ones that you might run into on the dog beach right here in Australia. If you're looking for dog trainers who offer virtual classes and even in-person training, take a look at these closer-to-home options.
#6: Steve & Vicki Austin
Steve and Vicki Austin may not have huge internet followings, but they've made names for themselves as some of the most successful dog trainers in Australia. And, while most of their work has centred on in-person training, they've recently launched an online portal to help with everything from puppy training to doggy anxiety to lure coursing and scent detection. 
If you're looking for internet dog trainers who offer interactive seminars, the Austins are a great choice.
#7: Tate Animals
Jen and Ryan Tate, along with the whole team at Tate Animals, offer a range of online courses to help you with at-home dog training. And, because they're based in NSW, you can also find in-person classes to help supplement the work you do at home.
Plus, you don't want to sleep on the adorable pups on their Instagram!
Who is your favourite famous dog trainer?
Whether you've got an energetic puppy, an older dog, or working breed ready for a challenge, online dog trainers are an amazing resource. You'll want to forward these videos to your Dog Owner friends, local Pet Sitters, and anyone else who interacts with doggos.
Are you a fan of one or more of the trainers we highlighted here? Is there another you think every Dog Owner should know? Everyone has their own favourite internet dog trainers, and we want to know who has been your go-to!
Comments
comments