It can be a challenge to create a life in a different country. Finding a job, making friends, and pursuing your passions can be tough when you've just arrived in your new home. However, when Harshitha moved to Australia, she was able to conquer all three goals in one fell swoop. How? Simple: she became a Mad Paws Pet Sitter! A resident of Hobart, TAS, Harshitha is our July Pet Sitter of the Month. Learn all about Harshitha's journey with Mad Paws, in addition to what makes her a top Pet Sitter in Hobart! 

Why do you love being a Mad Paws Pet Sitter? 
Traveling to a different country trying to fit in a new place would not have been the same without Mad Paws. Among a few other things that connected me to this unfamiliar city is without a doubt Mad Paws. The simplicity of the app, the platform, and the team is fantastic!
Joining Mad Paws was straightforward and the platform has a user-friendly application. The most important reason I love being a Mad Paws Sitter is I get to meet, interact with, and play with different kinds of animals!
What's your favourite thing to do with your furry clients?

 
Just the company of the furry clients makes me happy. Their enthusiasm in playing for hours keeps me amazed. The thing I enjoy the most is getting them to find hidden treats. I also like watching them get curious about everything, especially during walks.
What was the first pet you ever owned? Do you have your own pets now?

 
Although I have never had a pet of my own, I grew up in a neighbourhood with dogs. The constant interaction with them always made my day. I never let go of the opportunity to walk my neighbours'/ cousins'/ friends' pets. Now, I live with Lady Marmalade, my housemates' two-year-old Tabby Cat. Every time I enter the house she is always there to greet me. After a long day, getting back home to just have her around is the best stress buster I could have asked for.
Do you have any particularly memorable furry guests?
All my furry guests are memorable! But if I really had to pick I would say Kelly the Australian Kelpie. She is energetic, naughty, full of life, and always wants to play. She loves her play toy (ball) and it is funny to see her relationship with it. The toy means the world to her and she'd enjoy playing with it day or night.
Special mention to Molly the Labrador, who is smart, intelligent, and has great energy. She also has a great sense of humour!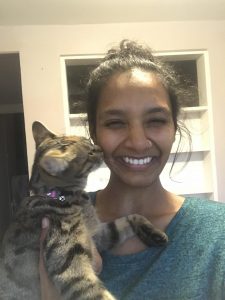 If your furry guests could talk, what one question would you ask them at a Meet & Greet? 
I would ask about their favourite food, favourite human, and favourite hangout spot.
What's your one top tip for new Pet Sitters?
It's important to understand that every furry client is different and each has different needs. I make sure to have a detailed conversation with pet parents regarding their pets before approving any booking. Updating them frequently during long pet stays keeps the pet parents stress-free. 
Do you need a Pet Sitter of Harshitha's prowess, but live somewhere other than Hobart? Take a look at our other Pet Sitters of the Month to see some of Mad Paws' best Pet Sitters! 
Comments
comments