On Sunday 28 October, Mad Paws will celebrate its fourth birthday. Having facilitated over half a million Pet Sits since our "birth", we've been lucky to make an a whole host of furry friends. With the assistance of our amazing Pet Sitters, we've worked day-in, day-out to embody our motto: "Pets. We get them." To mark the occasion, we'd like to reflect on some of our favourite moments from the last 12 months!
Take Your Dog to Work Day 
In June, we took the phrase "dog-friendly workplace" to a new level by hosting 13 dogs in our office. We did this for two reasons: 
We were celebrating Take Your Dog to Work Day – an occasion which promotes animal welfare and adoption
Do we really need a reason to bring 13 dogs into the office? 
We only had 12 workers in the office at the time, so the dogs officially outnumbered us. As you might imagine, we did very little work – but enjoyed a day we won't soon forget.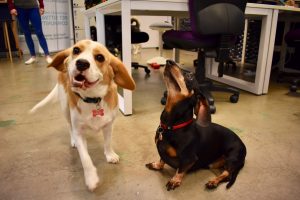 The Mad Paws Easter Fair 2018 
Following our debutant event in 2017, our 2018 Easter Fair turned Sydney Park into a celebration of all things doggy. The extravaganza brought together Pet Sitters, Owners, vets, masseurs, canine experts, pet groomers, and dog treat makers. Of course, the guests of honour were the pooches themselves. We already can't wait for the 2019 Easter Fair!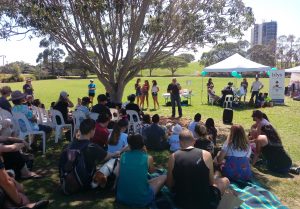 Our Day with the Dogs at Qantas
In May, we took a small pack of pooches to Qantas' HQ in Sydney. As Qantas is our proud partner, we wanted to give their staff a doggy reprieve from their workdays. The result? A lot of happy pups, and a lot of happy Qantas humans.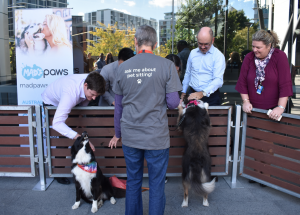 National Pyjama Day 
While this one didn't involve any pets, it did combine two of our favourite things: a good cause, and ridiculous attire. National Pyjama Day is an event which seeks to raise funds and awareness for children in foster homes. Thanks to the donations from the kind folks in our building, we raised $1243.85 for the Pyjama Foundation. What's more, we looked crazy stylish while we did it. 
Thanks for joining us on this furry journey, everyone! We're humbled to have shared it with you, and we hope the next 12 months are even better! 
Comments
comments